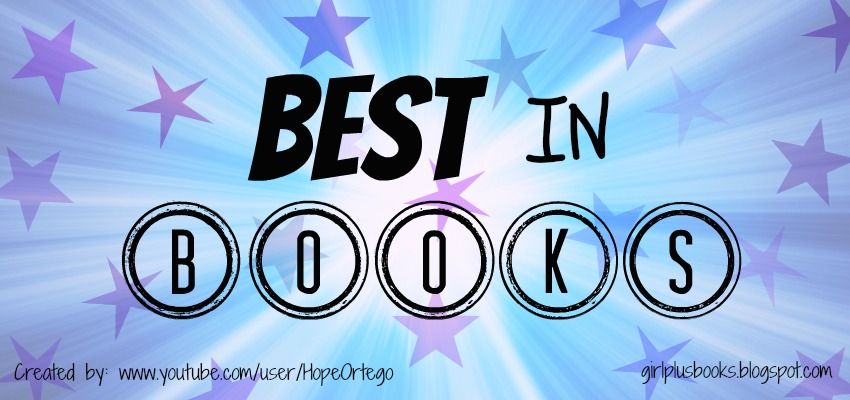 A playlist of her Best In Books videos can be found HERE.
_________________________________________________
Welcome to my Best in Books for April! Yeah, I'm a little late this month but better late than never. Maybe? Best in Books was created by my friend Hope and she was kind enough to let me join in on her feature (because she's awesome that way). Her BookTube channel is linked above and I hope you'll check her out. Now on to all the best bookishness in April...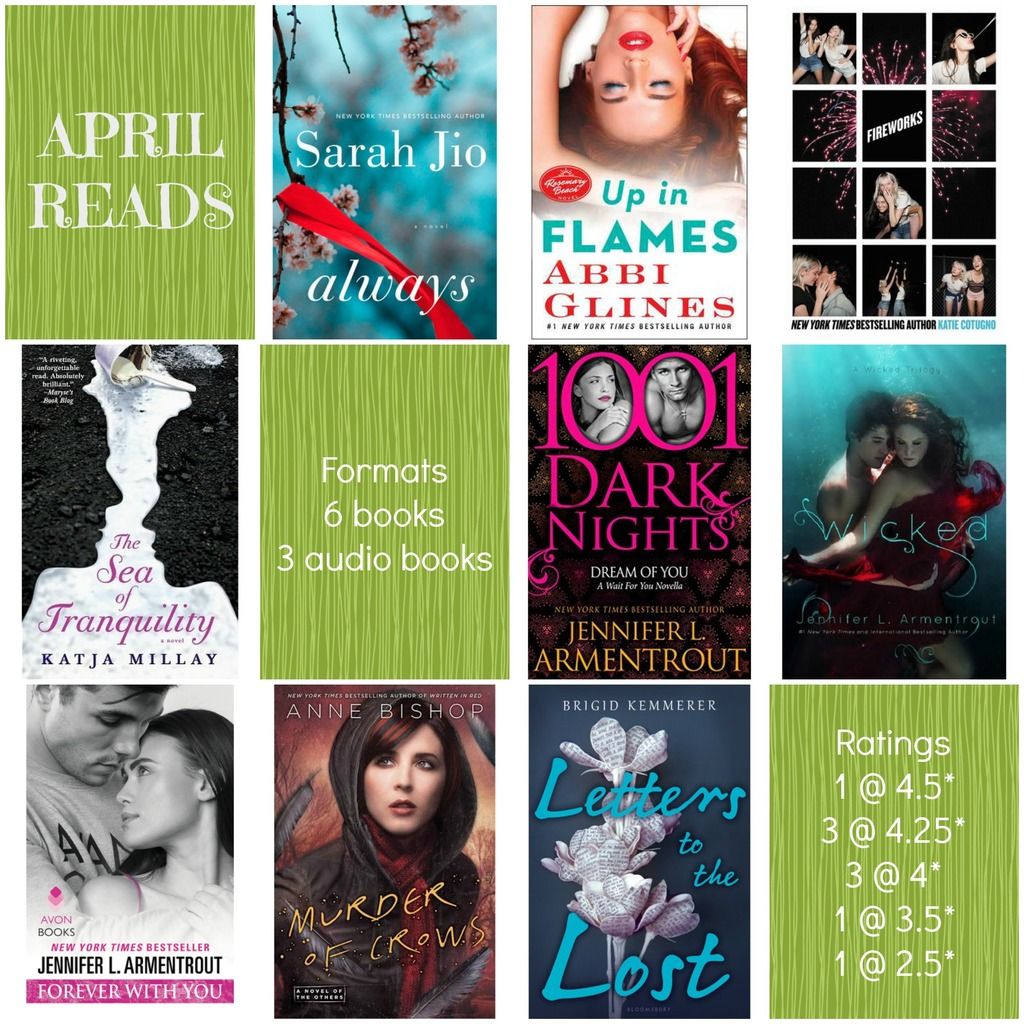 Meg from Murder of Crows
Not only do I find The Others series to be unique and original, I feel the same about protagonist Meg Corbyn. Because of what she is, a cassandra sangue (or blood prophet), Meg maintains an almost child-like innocence and sweetness. Add that to the fact that she is new to navigating the world around her (after being held in a compound up to this point), and Meg is naive and many experiences are completely new to her. Despite all this, Meg maintains an almost dogged determination to learn, to understand, and to make a life for herself. She is so kind, she completely charms those around her, and I love reading about this sweet young woman.

Nick from Forever With You
Nick had been something of a mystery throughout other books in the series (it didn't help that I read the last couple out of order). So I loved getting his story and understanding who he was. He found himself in such unfamiliar territory when it came to his relationship with Stephanie, and yes he had a few missteps along the way, but when things got real he was amazingly supportive, said all the right things and basically was everything she needed. It was obvious Nick loved and adored Stephanie long before the actual words were said. Armentrout has always written book boyfriends that I love and Nick was no exception.
Wicked by Jennifer L. Armentrout
I re-read Wicked last month in anticipation of picking up the second book in the series and was reminded of how much I love Tink. The little brownie stole every scene he was in and provided such comic relief.
Grabbing a scarf off the chair, I threw it at him.
He caught it, clutching it to his chest as he flew into the air. "You gave Tink a scarf. Tink is free!" He flew out into the hallway like a little cracked-out fairy, screeching, "Tink is freeeeee!"
Ren looked at me. "What the actual f**k?"
I sighed. "He's obsessed with Harry Potter. I'm sorry."
Tink darted back into the room, holding the scarf to his bare chest. "There is no reason to apologize when it comes to Harry Potter."
"You do remember what happened to Dobby, right?" I said.
"S**t." Tink's eyes widened and he dropped the scarf.

The Sea of Tranquility by Katja Millay
Not exactly a plot twist. And The Sea of Tranquility might not typically be a book you think of when it comes to twists and turns. But an OMG! Moment? Oh yes. The last two words in the book, actually. It made perfect sense, and there was a feeling of coming full-circle, but I also never saw it coming. Those last two words made my jaw drop. And I loved it.

Always by Sarah Jio
I downloaded the audio version of Always on a whim after seeing Grace at Rebel Mommy Book Blog review it. While I did have a couple issues with it (full review coming soon), overall I truly enjoyed this story of second chances and love that lasts. I loved the shifting timeline, I loved the mystery aspect, and I truly loved Cade. I'm so glad I took a chance on this one.

Letters to the Lost by Brigid Kemmerer
This took a little bit of thought because I had some really enjoyable reads in April, but Letters to the Lost was so much more than I was expecting. Kemmerer had me completely invested in the two main characters and my heart ached for their struggles. Tackling issues of grief and guilt, Letters to the Lost wasn't maudlin and didn't become mired down in schmaltz. Instead it showed the the loneliness and isolation grief could cause but also the healing power of reaching out and human connection. Add in the amazing character development and Letters to the Lost was a real stand-out read.
______________________________________________________
Now it's your turn: What was the best book you read in April?