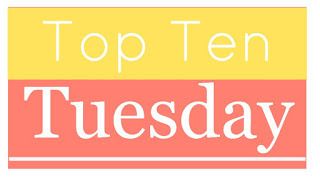 Top Ten Tuesday is an original feature/weekly meme
This week's Top Ten Tuesday theme is all about reading wishlists.
So here's what I want more of in my books.
Note: The text came out way smaller than I expected but I so do not want to re-do this graphic.
So just see the list below for the captions, m'kay? Thanks.
1. Friendship to Love
It's one of my favorite tropes and I just don't get tired of it.
2. Sports Romance
Does this even need explanation? :)
3. Time Travel
It can be hit or miss but I usually love a good time travel romance and would love to see more of them.
4. Male POV
Whether it's dual POV, multi-POV, or male-only POV, I'm a sucker for a male narrator. Getting inside the guy's head does it for me every time.
5. Epilogues
I'm trash for a good epilogue.
6. Plot Twists I Don't See Coming
I'm all for foreshadowing but it bugs me when every "twist" is basically spelled out in advance and you see it coming from 50 pages away. Nope, give me some twists and turns that will genuinely catch me by surprise.
7. Brother's Best Friend/Best Friend's Brother
Overdone? Some would say yes. But do I want more? Absolutely.
8. Secret Pen Pals
Love it, love it, love it.
9. 80's Setting
I was in high school in the 80's so a setting during that time is super nostalgic for me.
10. Stand Alones
I love a good series as much as the next girl, but sometimes it's just... enough, already. Not everything has to be a series. Gimme a good stand alone and I'm a happy girl.
What's on your bookish wishlist?
What do you want to see more of?