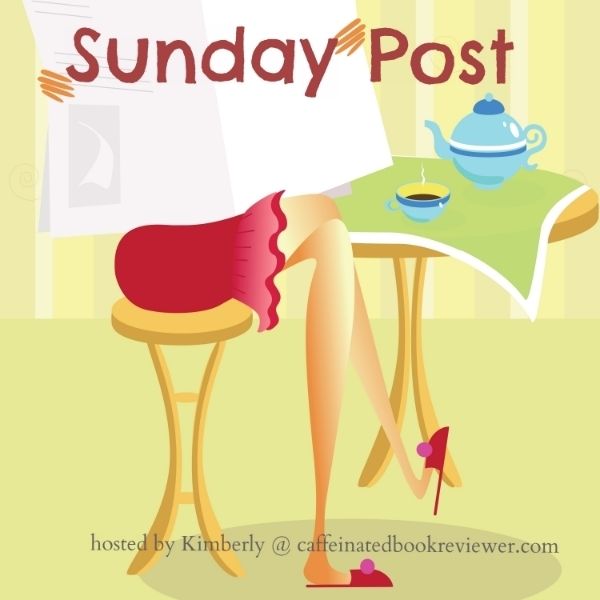 It's a chance to share news - a post to recap the past week on your blog,
showcase books and things we have received, and share news about what is
coming up on your blog in the week ahead. You can find the info here:

Happy New Year! I hope everyone rang in the new year safely, whether it was out on the town or from the comfort of home. I'm being a total homebody today and loving it. Sunday is usually my laundry day but The Husband insists that laundry cannot be done on New Year's Day. (An old superstition about laundry on New Year's Day washing away your good fortune for the year.) Another superstition/tradition we'll be observing?
Black-eyed peas and cornbread with dinner (along with ham and potato salad). I don't know if black-eyed peas on New Year's Day is just a Southern tradition, but it's a big one! Typically, collard greens are served as well but I'm skipping those this year. Do you have any New Year's traditions?

Tuesday, December 27:
Doing a Top 10 of the year seemed impossible so instead I went with my Top 16 of 2016 and had a great time choosing my favorites and putting together the post. :)
Wednesday, December 28:
On Wednesday I shared two more challenges that I'll be taking part in this year. This will be my second year for the #ShelfLove Challenge and my first in the Contemporary Romance Challenge. I'm hoping both will be fun motivators in continuing to read from my favorite genre and read from my shelves.
Thursday, December 29:
Thursday brought a review of My True Love Gave To Me - an anthology of holiday-themed short stories. I'm not a big fan of short stories but there were a few here that I really enjoyed. I was so glad to finally read this one since it had been sitting on my shelf for two years!
Saturday, December 31:
On New Years Eve I decided on a whim to do the 2016 End of Year Book Survey. Unfortunately it was already 10 PM by the time I made that decision so I was in front of the computer for the next 2+ hours putting the post together. I rang in the new year bleary-eyed and sleepy (and skipping a few questions at the end LOL) but it was fun to do.

Finished:
My True Love Gave To Me - Stephanie Perkins (editor)
The Anatomy of Us (WJM #2) - Amelia LeFay
Current:
From Sand and Ash - Amy Harmon
KINDLE:
Paper Princess - Erin Watt
The Edge of Never - J.A. Redmerski

How was your week? Any new books? Any news to share?
You know I want to hear about it! :)