I love books.
I love lists.
And combing the two?
Well, my nerdy little heart can barely stand it.
I was just perusing my GoodReads shelf, looking over the books I've read this year, and there have been some real stand-outs. And I thought to myself, "Self? Seeing as how we just wrapped up the first quarter of the year, why not share your favorites? What a perfect excuse to make a list!" And then I congratulated myself mightily on having such a stellar idea. (I'm all about boosting the ol' ego, don't you know.) I'm not sure if I'll continue this with other Top Five lists (sounds fun now but who needs the commitment, amiright?) so for now let's just start with this.
top five books I read this quarter
January-February-March 2018
the cruel prince by holly black
It's rare that I feel led to pick up a fantasy novel, but the synopsis of The Cruel Prince caught my eye. I got the book from my library and when it was slow to start I thought I'd made mistake and was ready to run back to my stack of contemporary romance. But I decided to switch to the audio version and *bam* - that did the trick. The story came to life and the plot was off and running. I was hooked from that point on and completely caught up in the political intrigue and the realm of the Fae. And the twist at the end left me with total grabby hands for book two.
royally matched by emma chase
read in january
I feel like I talk about this series *a lot* but there's a reason for that: it's just that good. What I thought would be a light-hearted romance series full of laughs turned out to be so much more. And Royally Matched was no exception. It's hard to choose a favorite from the series but this one might just be it. I loved Henry and Sarah's story. Their opposites-attract relationship developed slowly and started as a friendship. Their banter was utterly priceless but was balanced perfectly with more serious issues. There was real growth in both characters and some turns at the end that added such depth and emotion. Yeah, I'll admit it... I shed a few tears.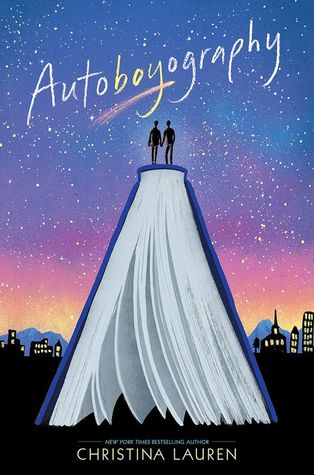 autoboyography by christina lauren
read in february
Prepare for much gushing because seriously... this book is just
everything
. I'm reading less and less YA these days but this one is such a stand-out. There were so many elements that I loved: realistic characters that felt 100% genuine, great dialogue that felt true to life (never clunky or stilted), a wonderful, supportive family, friendships, romance, and above all, two main characters that were totally precious. I am ridiculously stingy with five star ratings but this one easily got those five stars and became an instant favorite of my heart.
the seven husbands of evelyn hugo by taylor jenkins reid
read in february
I read my first book by TJR last year and was so moved and impressed that I was immediately determined to read everything she has written. But for some reason, when The Seven Husbands of Evelyn Hugo was released I wasn't
exactly
jumping on the bandwagon. I wasn't sure I wanted to read the story of a Hollywood starlet-turned-legend. Then I saw the audio version available on Overdrive, started listening, and was hooked. Evelyn is an unforgettable character and I was totally wrapped up in the story of her life.
love and other words by christina lauren
read in march
Love and Other Words is another one that I feel like I've been talking about a lot lately - with good reason. It's no coincidence that two books on this list are from writing duo Christina Lauren. These ladies know how to create characters that feel like walking-talking human beings - ones that I can imagine out there in the world living their lives. Their motivations, their actions, their dialogue - all of it feels so realistic and it lends a believability factor that makes for an amazing reading experience. I totally fell for Macy and Elliot and their story - both past and present - captured my heart.
What book have you read so far this year that stands out above all the others?