I didn't set out to read new authors in 2017, but looking back over my reading this year I can see that I definitely did just that. Some were hits, some were misses, some were pretty forgettable (sad but true), and some became new favorites. So let's take a look.
I read a total of 35 (yes, THIRTY-FIVE!) new-to-me authors in 2017. I was pretty astounded by that number! I would have guessed less than half that. Here's a rundown of all 35:
Vi Keeland, Bryn Greenwood, Kiera Cass, Jeff Zentner, Robin Roe*, Julie Buxbaum, Juilana Keyes, Marley Jacobs*, Anne Bishop, Sarah Jio, Katja Millay, Joanna Wylde, Brigid Kemmerer, S. Jae-Jones*, Sandhya Menon*, Jill Santopolo, Cath Crowley, Sasha Clinton, Emma Scott, Kylie Scott, Emma Chase, Tiffany Pitcock*, London Hale, Katy Upperman*, Sarah White*, L.P. Dover, Tracy Wolff, Martin Wilson, Sara Jade Alan*, Robin Covington, Liz Nugent, Leigh Bardugo, Mary Lindsey, Monica Murphy, Dianne Duvall
Among the books from these 35 authors there were some real stand-outs, so here are the ones that truly made an impression.
In March I downloaded the audio version of Bishop's Written in Red on a whim. It was unlike anything I typically read and I had no expectations. And I loved it! I was instantly hooked on the story of blood prophet Meg Corbyn and the characters/creatures who dwelled within the Lakeside Courtyard. I quickly made my through all five books in the series and am now anxiously awaiting the next book.
The oh-so-pretty cover of Sugar & Gold caught my eye and the synopsis caught my imagination. I ended up flying through this romance with a slight paranormal twist. Scott managed to surprise me with characters I loved, a plot that I couldn't predict, and an emotional impact that I didn't expect. I know I'll be reading more from Emma Scott… soon.
Truth be told, I only picked up The Serpent King because Shannon (It Starts at Midnight) sang its praises for a solid year. I chose to go the audio route and, while I didn't love it quite as much as Shannon (who could? LOL), my heart still ached for the characters and their struggles with poverty, abuse, faith, and friendship. And even though it's been 10 months since reading it, there is one particular scene that has stayed with me and continues to hurt my heart – and probably always will. It's not often I encounter a specific scene that is so utterly unforgettable, but Zentner managed to create just that, so kudos to him.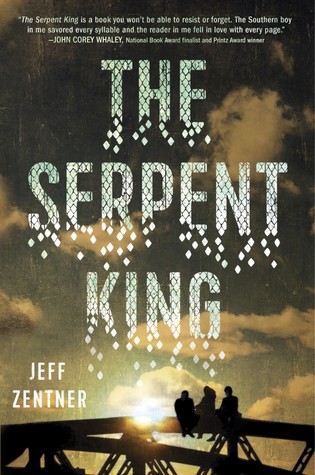 JULIE BUXBAUM, BRIGID KEMMERER, KYLIE SCOTT, KATY UPPERMAN
When it came to YA contemporary, these authors were new voices that caught my attention. Tell Me Three Things, Letters to the Lost, Trust, and Kissing Max Holden – all four novels had that certain something that just clicked with me and had me ready to read more from each author.
WAS YOUR FAVORITE THIS YEAR?