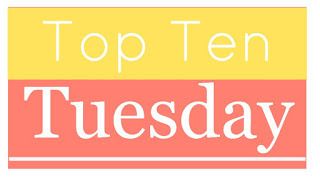 Top Ten Tuesday is an original feature/weekly meme
With it being back to school time I'm using this week's Top Ten Tuesday to share the books I wish were around when I was in school. I was in junior high and high school in the 80's and it was like the Dark Years of YA. There was not the amazing variety of YA awesomeness that there is now. That was around the time the Sweet Valley High book series started but for some reason I never read a single one. Instead I went for the Sweet Dreams teen romance books (so cheesy and squeaky clean) but my go-to authors were Norma Klein and Lois Duncan and some Lois Lowry. It wasn't until years later that the YA genre really exploded and became more inclusive, more realistic, more wide-ranging. I'm so envious of those who were actually the target audience when the YA genre exploded and became what it is now. Here are some of the books I wish were around when I was still in school.
Twilight - Stephenie Meyer
Oh to have experienced this a teenager. I'm sure the feels would have multiplied exponentially. On the downside, book fandoms were not exactly a thing back in the day so I would have missed out on fangirling with others about important things like Team Edward or Team Jacob. (The correct answer was Team Edward, obviously.)
Eleanor & Park - Rainbow Rowell
Had I read this when I was in school I think I would have fallen in love with Eleanor & Park just as much as I did as an adult. Eleanor's awkward encounters at school and on the bus would have struck a chord with me and I would have wished madly for a Park in my life.
Sloppy Firsts - Megan McCafferty
This book, and the entire Jessica Darling series, would have been such a "me" book back then. I would have totally related to Jessica's conflicting feelings of not wanting to conform to the shallowness and pettiness of the school cliques but also feeling left out.
Pushing the Limits - Katie McGarry
I swear if I'd had Katie McGarry's books in my life when I was in high school I might have been a happier girl. Katie's books would have given me a look at lives far different from my own and provided a reality check. Plus they are just amazing stories that I would have loved.
Everything Everything - Nicola Yoon
I'd love to know what a teenage Tanya would have made of Maddy's story in Everything Everything. I'm wondering how my feelings about her illness, her outlook and her mother might have been different.
Obsidian - Jennifer L. Armentrout
Raise your hand if you're surprised at this one. I mean, hello, do you know me at all? Daemon Black could have been my book boyfriend before I knew there was such a thing as book boyfriends.
Angus, Thongs and Full-Frontal Snogging - Louise Rennison
I think I would have loved reading about Georgia Nicolson and her adventures. I don't remember reading too many truly funny books in school so this would have been a much needed break.
City of Bones - Cassandra Clare
Yes! I just know that I would have fallen in love with this series had it been around when I was in school. I would have been utterly captivated by the Shadowhunter world and my imagination would have latched on to this series and not let go. I'm betting I would have become a bit obsessed with it. :)
Emmy & Oliver - Robin Benway
For some strange reason I had quite a fear of being kidnapped as a kid (don't ask, I was a strange kid) so Emmy & Oliver, with its tale of parental abduction, would have caught my attention. My heart would have hurt for Oliver and I would have been envious of the amazing friendships.
My Life with the Walter Boys - Ali Novak
I'm fairly certain I would have fallen hard for My Life with the Walter Boys. I would have envisioned myself as main character Jackie - a tragic character (in my teenaged mind, not actually in the book) that was recently orphaned (horrific!) and sent to live with a family with 11 sons (equal parts horrific and dreamy!). I would have placed myself in the starring role and daydreamed endlessly about which boy would fall madly in love with me. (I had a flair for drama, in case you couldn't tell.)
What book do you wish had been around when you were in school - or just have read earlier in life?