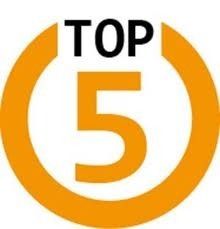 Click HERE for a complete list of participants and future topics.
This week's Top Ten Tuesday and Top 5 Wednesday themes have dovetailed quite nicely. Thumbs up for synchronicity. :) Yesterday's TTT topic was all about books that have been on the ol' TBR since before we started blogging. Today's T5W theme is the books you plan to read by the end of the year. One kind of leads to the other, no? So while I could just post the same list of books I shared yesterday... where's the fun in that?
A COURT OF MIST AND FURY
Sarah J. Maas
A Court of Thorns and Roses was one of my biggest surprises last year. Fantasy is *not* my genre but I took a chance and it paid off big time. I'll need to brush up up some details from ACOTAR before I dive into ACOMAF, but I can't wait to continue the story.
A THOUSAND BOY KISSES
Tillie Cole
I've never read anything from Tillie Cole and even though this one doesn't seem to be representative of her usual genre/style, this is the one I'll be starting with. Because I can't resist a good tearjerker. Ever.
WHO DO YOU LOVE
Jennifer Weiner
I was so excited about this book last year that I just had to have it. Not only that I just had to have the pretty UK edition. Aaand... there it still sits on my bookshelf - but not for much longer. My friend Hope loved this one and I'm positive I will, too.
THE DEAL
Elle Kennedy
Am I officially the last person who has not read The Deal? I am, right? With my love of good new adult, I can't believe I've managed to put this one off as long as I have but it will happen by the end of the year.
BEFORE WE WERE STRANGERS
Renee Carlino
Another one that I just had to have last year. And then didn't read it. But when I read an ARC of Swear on This Life, I knew I needed to read everything Renee Carlino has written. So Before We Were Strangers will be first on that list.
What book are you determined to read by the end of the year?