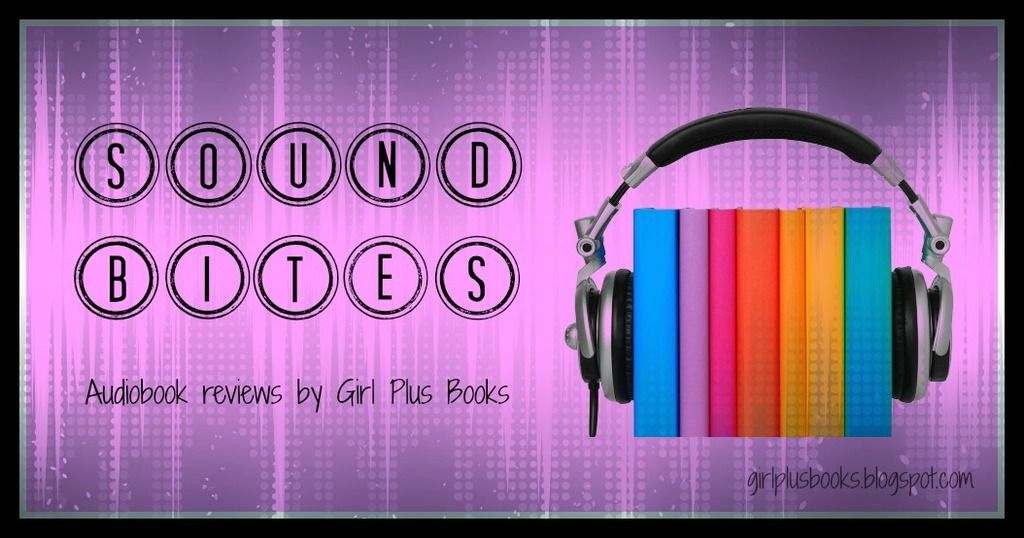 I'm not what you would call a huge fan of audio books but from time to time I do download one from my library's Overdrive app and enjoy a little entertainment during my daily commute. Over the past couple of months I listened to several audio books - more than I've listened to in the last few years. I'm a total purist when it comes to reading and while audio books can be fun, for me it's never as rich an experience as actually reading the physical book. Because of that, my thoughts are pretty brief so I'm combining all three reviews into one post.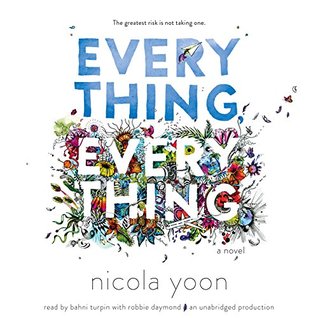 Everything, Everything by Nicola Yoon
Narrated by: Bahni Turpin, Robbie Daymond
Synopsis: My disease is as rare as it is famous. Basically I'm allergic to the world. I don't leave my house, have not left my house in 17 years. The only people I ever see are my mom and my nurse, Carla.
But then one day, a moving truck arrives next door. I look out my window, and I see him. He's tall, lean, and wearing all black - black T-shirt, black jeans, black sneakers, and a black knit cap that covers his hair completely. He catches me looking and stares at me. I stare right back. His name is Olly.
Maybe we can't predict the future, but we can predict some things. For example, I am certainly going to fall in love with Olly. It's almost certainly going to be a disaster.

WHAT I LIKED:
When this first released last year and was all over the blogosphere I didn't have much interest in reading it. I downloaded it on a whim and I'm so glad I did. I enjoyed it so much more than I expected. Maddy was intelligent and funny and so without self-pity that I couldn't help but love her. Olly was charming and such a perfect foil for Maddy. Carla has to be one of my favorite secondary characters ever. I loved the way the story unfolded and even though I had begun to suspect the big twist, it didn't detract at all from my enjoyment of the story.
WHAT I DIDN'T LIKE: Unfortunately I wasn't a big fan of the narration. The narrator voice for Maddy made her come across as much younger, more little girl than 18 year old young adult. And I'm confused as to why there were two different voices for Olly - one for in person and one for their messaging. The messaging voice was so much better and the voice used for their face to face encounters was a little off-putting.
4/5 STARS
Dreamology by Lucy Keating
Narrated by: Erin Spencer
Synopsis: For as long as Alice can remember, she has dreamed of Max. Together they have traveled the world and fallen deliriously, hopelessly in love. Max is the boy of her dreams - and only her dreams. Because he doesn't exist.
But when Alice walks into class on her first day at a new school, there he is. Real Max is nothing like Dream Max. He's stubborn and complicated. And he has a whole life Alice isn't a part of. Getting to know each other in reality isn't as perfect as Alice always hoped.
Alarmingly, when their dreams start to bleed into their waking hours, the pair realize that they might have to put an end to a lifetime of dreaming about each other. But when you fall in love in your dreams, can reality ever be enough?
WHAT I LIKED:
I really liked the premise of dreaming of someone for years and then coming face to face with them in real life. Max had appeared in Alice's dreams since she was a little girl and their nightly escapades were sweet and funny and whimsical. Also, the secondary characters were excellent.
WHAT I DIDN'T LIKE: As intriguing as the synopsis was, the
story didn't really work for me.
There wasn't a lot of focus on
why
it was
happening (which, hello, isn't that the point?) and the story too often veered into cutesy/silliness. Overall, it felt very, very young, almost middle grade instead of YA.
2.5/5 STARS
The Way I Used to Be by Amber Smith
Narrated by: Rebekkah Ross
Synopsis: Eden was always good at being good. Starting high school didn't change who she was. But the night her brother's best friend rapes her, Eden's world capsizes.
What was once simple, is now complex. What Eden once loved—who she once loved—she now hates. What she thought she knew to be true, is now lies. Nothing makes sense anymore, and she knows she's supposed to tell someone what happened but she can't. So she buries it instead. And she buries the way she used to be.

Told in four parts—freshman, sophomore, junior, and senior year—this provocative debut reveals the deep cuts of trauma. But it also demonstrates one young woman's strength as she navigates the disappointment and unbearable pains of adolescence, of first love and first heartbreak, of friendships broken and rebuilt, and while learning to embrace a power of survival she never knew she had hidden within her heart.
WHAT I LIKED:
Eden. I loved this girl. She was young and sweet and a little naive. She was also wild and reckless and frustrating. The changes in Eden after being raped by her brother's best friend are heartbreaking. Her every thought and action was defined by that horrific act and it was so difficult to watch her struggle through the next 4 years. The storytelling was top-notch: honest and emotional and impactful.
WHAT I DIDN'T LIKE: Nothing. Any minor quibbles I may have had were eclipsed by how powerfully good everything else was.