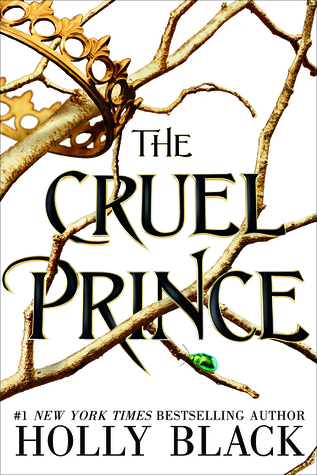 The Cruel Prince by Holly Black
Series:

The Folk of the Air #1
Genres:

Young Adult, Fantasy
Release Date:

January 2, 2018
Format:

Hardcover & Audio
Source:

Library & Audible
Jude was seven years old when her parents were murdered and she and her two sisters were stolen away to live in the treacherous High Court of Faerie. Ten years later, Jude wants nothing more than to belong there, despite her mortality. But many of the fey despise humans. Especially Prince Cardan, the youngest and wickedest son of the High King.

To win a place at the Court, she must defy him–and face the consequences.
While fantasy is not typically my genre of choice, I have found that stories centering on the Fae do catch my attention and the synopsis of The Cruel Prince definitely piqued my interest. Adding to that is the fact that I loved Black's take on vampires in The Coldest Girl in Coldtown (one of the few stand-alone novels that I wished was a series). So I had high hopes going into The Cruel Prince and I'm happy to say it did not disappoint.
Jude is taken from her home to the land of Faerie, along with her two sisters, by the man who murdered her parents. Flash forward 10 years and we learn through Jude that the Fae can be a mean-spirited bunch. Clever, conniving, and sometimes brutal. And that's just among themselves. When it comes to mortals like Jude, their attitudes range from contempt to outright loathing and cruelty. The high king of Faerie will soon step aside and has several sons who are vying for the throne. Jude, determined to obtain some measure of power, seeks to have a position at Court as a knight to the new king. It's that desire than leads to her involvement in the political intrigue and behind the scenes scheming and plotting. And that's where the story really takes off.
"What they don't realize is this: Yes, they frighten me, but I have always been scared, since the day I got here. I was raised by the man who murdered my parents, reared in a land of monsters. I live with that fear, let it settle into my bones, and ignore it. If I didn't pretend not to be scared, I would hide under my owl-down coverlets in Madoc's estate forever. I would lie there and scream until there was nothing left of me."
Layered and Complex Characters.
Black created a large and varied cast of characters with attention paid to developing not just main character Jude but those around her as well. There wasn't a single under-utilized or cookie cutter character in sight. Each had a story, a personality, a purpose. And more importantly, each had their own motivations and could be self-serving. My favorite aspect of these characters is the fact that there were no obvious heroes or villains. The Cruel Prince is filled with morally grey characters who are driven by their individual wants and desires. Simply put, they all do bad things.
"What could I become if I stopped worrying about death, about pain, about anything? If I stopped trying to belong? Instead of being afraid, I could become something to fear."
Sister/Familial Relationships.
It's interesting to see the differences in Jude and sisters Taryn and Vivi and how they become more pronounced once in Faerie. There is Jude's desire for power and a feeling over control, Taryn's willingness to fit in and play by the rules, and Vivi's wish to return to the mortal world. Jude is the most conflicted, torn between her wish to fit in and be accepted and her desire for power over those who would do her harm, and this is the catalyst for conflict with each of her sisters at times.
"If I cannot be better than them,
I will become so much worse."
Jude's relationship with Madoc was one of the most interesting to me. He is the one who stole her away to this land and, while not her father, acted as such and raised her under his protection. He taught her the ways of Faerie, trained her in swordsmanship and strategy, and generally treated her as his daughter. But Jude never forgot his history or his nature and her love for him was always tempered with a measure of fear.
And then there's Cardan, the eponymous prince. I spent much of the book wanting to claw his eyes out or do other bodily harm, pretty much echoing Jude's feelings when it came to Cardan. He was condescending, spiteful, and, yes, cruel. But before you start assuming that underneath the hateful exterior that there's a heart of gold just waiting to be set free, and then unicorns and rainbows abound… yeah, not so fast. Is there more to Cardan than meets the eye? Absolutely. But remember what I said about morally grey characters and no obvious heroes and villains. Just because he may have his own secrets and his own demons, doesn't mean there's a swoony nice guy hidden away. Cardan is flawed, acerbic, cynical, and would rather spend his time drinking wine than involving himself in court politics. And yet… well, let's just say I want to know more.
"I am going to keep on defying you. I am going to shame you with my defiance. You remind me that I am a mere mortal and you are a prince of Faerie. Well, let me remind you that means you have much to lose and I have nothing. You may win in the end, you may ensorcell me and hurt me and humiliate me, but I will make sure you lose everything I can take from you on the way down. I promise you this is the least of what I can do."
Political/Palace Intrigue.
Get ready for your head to spin with the ins and outs of Court politics. There are political alliances – and treasons. There are secrets and treachery. There are the dynamics among the various Courts. At any given time I was unsure of who to trust, and how much they could be trusted, until I was finally suspicious of nearly everyone. And with good cause – because they all have their own agendas and there are so many machinations taking place that it feels impossible for Jude to stay one step ahead of the game.
"No matter how careful I am,
eventually I'll make another misstep.
I do think The Cruel Prince got off to a slow start and it took a while for it to gather steam. I started off reading a physical copy but, because I was struggling with the pacing, I switched to the audio version. Great decision. The narration is done well and went a long way in helping me get further invested in the plot. Caitlyn Kelly voices each character uniquely and it was always obvious who was speaking. She was able to impart emotion well with Jude and it added a lot to particularly dramatic or emotional scenes.
The Cruel Prince is compelling and quickly drew me in to the story. Even at the start, when I felt the pacing was slow, I was still intrigued by the rich world Holly Black created. Drama and action, politics and intrigue, all of it leading to a thrilling climax that had me on the edge of my seat, totally surprised by the turn of events. If you love tales of the Fae, if you love fantasy, if you love great story telling – pick up The Cruel Prince. You won't be disappointed.
4.25/5 STARS
Do you plan to read The Cruel Prince?