Just answer three questions and share what you're reading.
It's bright and sunny right now and about 70 degrees as I type this (at 10 am). But the rain it is a comin'. Woo hoo! By this evening the thunderstorms will be rolling in and you know what that means... perfect reading weather! :) Once I get home from the office and grab some dinner I'm settling in to read. What's your plan for tonight?
WHAT ARE YOU CURRENTLY READING?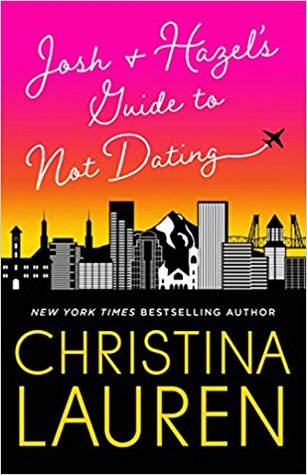 Josh & Hazel's Guide to Not Dating - Christina Lauren
Loving this one! Oh my goodness, I can't remember the last time I laughed so much while reading. CLo has a way with zingy dialogue and I love it. I admit I was a little hesitant about this one because sometimes the stereotypical "quirky/wacky" character rubs me the wrong way. It feels too forced. But that is so not the case with Hazel. She is like a breath of fresh air and is just a ray of sunshine. She and Josh together are too precious for words! :)
WHAT DID YOU RECENTLY FINISH READING?
Vanishing Summer - Lora Richardson
No cover or GoodReads link for this one yet but I'm talking about it anyway. Y'all know I love Richardson's Juniper series and recommend those books every chance I get. Vanishing Summer is the start of a new series and it was just as sweet and genuine and heartfelt as her others. It releases in late March and I'm already looking forward to sharing my review closer to the release date. I so want everyone to meet Greta and Everett!
WHAT DO YOU THINK YOU'LL READ NEXT?
I'm in this mood where I want to read All The Things so I don't even know what's next. So many options! I'll wait and see what I feel like after I finish Josh & Hazel, but these are all options. Which one do you think I should read next?
What are you currently reading?
I wanna know! :)