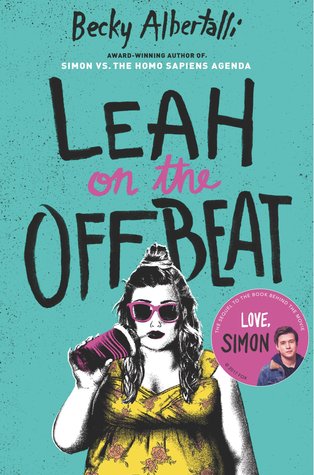 Leah on the Offbeat
Becky Albertalli
Publication date: April 24, 2018
Genres: YA, Contemporary
Format: Hardcover/Purchased
GOODREADS | AMAZON
Leah Burke—girl-band drummer, master of deadpan, and Simon Spier's best friend from the award-winning Simon vs. the Homo Sapiens Agenda—takes center stage in this novel of first love and senior-year angst.

When it comes to drumming, Leah Burke is usually on beat—but real life isn't always so rhythmic. An anomaly in her friend group, she's the only child of a young, single mom, and her life is decidedly less privileged. She loves to draw but is too self-conscious to show it. And even though her mom knows she's bisexual, she hasn't mustered the courage to tell her friends—not even her openly gay BFF, Simon.

So Leah really doesn't know what to do when her rock-solid friend group starts to fracture in unexpected ways. With prom and college on the horizon, tensions are running high. It's hard for Leah to strike the right note while the people she loves are fighting—especially when she realizes she might love one of them more than she ever intended
.
Okay. *takes a deep breath* Let me start by saying that I adore Becky Albertalli. I think she is one of the most talented voices in contemporary YA and she manages to create teen characters that are flawlessly authentic. Let me also say that Simon Vs the Homo Sapiens Agenda is one of my favorite books ever (regardless of age group or genre), I loved The Upside of Unrequited, and What If It's Us was a total delight. But (you knew there was a but coming), I just can't say the same things for Leah on the Offbeat.
THESE THINGS I LOVED:
1. Being back in the Creekwood world. I loved stepping back into the world that gave me characters like Simon, Nick, Abby, Bram, Leah, Taylor and all the rest. I loved the feeling of catching up with friends.
2. The honesty and humor. To put it simply, Becky Albertalli keeps it real. She somehow captures what it feels like to be a teenager and puts it to paper in a way that feels so authentic, not like an adult writing what she guesses a teenager would say and do. She seems to have her finger on the pulse of a generation and shares their voice with compassion and care. Add to that her humor that just speaks to me and creates page after page of laugh out loud moments.
3. Simon + Blue (yeah, no spoilers for the first book here). I was living for every Simon + Blue scene. I read every one with a smile on my face and my heart was just one big pile of mushy goo. Those two are the definition of precious and I couldn't get enough. I mean, that promposal scene? Gah! So adorable!
THESE THINGS, NOT SO MUCH:
1. Leah. It pains me to say, but I spent most of the book not liking Leah. For someone who could be so self-aware she was always shockingly clueless at times. She was cavalier with the feelings of others which disappointed to me to no end. And when she got on her sanctimonious high horse… look out. My biggest issue with Leah, though, came at a pivotal scene when another main character was sharing something important. Leah's reaction had steam coming out of my ears and the hypocrisy she displayed had me seeing red.
2. The romance. Sorry, I didn't buy it. It didn't feel organic and maybe that's a weird thing to say because obviously these are Albertalli's characters and she knows them better than anyone, but the romantic relationship felt forced and I never bought into it. Also, the fact that there had to be a break-up for the romance to happen… meh. It left a bad taste.
3. Characters who no longer felt familiar. Maybe this is just me, but there were a couple characters that just felt so different from who they were in Simon Vs. Most notably, Abby and Nick. It was like they had personality transplants between the two books and I no longer recognized them.
So there you have it. I have to admit, it kind of hurts my heart that I didn't love this one. But for me it just didn't have the magic and charm of Simon Vs the Homo Sapiens Agenda. And I discovered that I like Leah better in small doses.