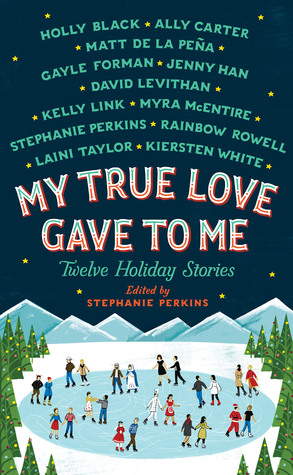 My True Love Gave To Me by Stephanie Perkins (editor)
Genres:

Young Adult, Anthology, Holiday
Release Date:

October 14, 2014
Format:

Hardcover
Source:

Purchased
Synopsis
If you love holiday stories, holiday movies, made-for-TV-holiday specials, holiday episodes of your favorite sitcoms and, especially, if you love holiday anthologies, you're going to fall in love with My True Love Gave To Me: Twelve Holiday Stories by twelve bestselling young adult writers, edited by international bestselling author Stephanie Perkins. Whether you enjoy celebrating Christmas or Hanukkah, Winter Solstice or New Year's there's something here for everyone. So curl up by the fireplace and get cozy. You have twelve reasons this season to stay indoors and fall in love.
My Thoughts
I'm not usually a fan of short stories but I am a fan of YA and Rainbow Rowell so I was willing to give this anthology a try. Plus, it's been sitting on my bookshelf since its release in 2014. I'd been meaning to read it the past two years and it just never happened. There were some hits and there were some misses... here are my thoughts.

Midnights by Rainbow Rowell: 5/5
I love that the book started with this gem from Rainbow Rowell. Loved this one and would read an entire book about Mags and Noel.
The Lady and the Fox by Kelly Link: 2.5/5
I'm not sure what to make of this one. I was enjoying it but then it ended with zero explanation. No explanation of who Fenny was, where he came from, who the Lady was... just nothing. *scratches head*
Angels in the Snow by Matt de la Pena: 3/5
Equal parts sweet and sad.
Polaris Is Where You'll Find Me by Jenny Han: 3/5
I was so loving this one. It was so whimsical and magical and I liked Natalie and Flynn. But then that ending. Nope.
It's a Yuletide Miracle, Charlie Brown by Stephanie Perkins: 5/5
Loved it. I could have read an entire book about Marigold and North. And now I need to read everything by Stephanie Perkins.
Your Temporary Santa by David Levithan: 2/5
I didn't feel any connection to this one and overall it was pretty boring.
Krampuslauf by Holly Black: 4/5
Okay, this one was pretty weird but the weirdness worked for me. I found the ending a tiny bit anti-climatic but I would loved to have read more about Joachim.
What the Hell Have You Done, Sophie Roth? by Gayle Forman: 2/5
Unfortunately main character Sophie ruined this one for me. She was so judgmental of those around her. Ironically, she felt judged by everyone in the small rural college she was attending but, hello - pot meet kettle. Instead of making any effort she just stood back and internally mocked those around her for being earnest and sincere. How dare they wear Christmas sweaters and sing carols! Sophie was much too cool for that apparently. My title suggestion: Get over yourself, Sophie Roth.
Beer Buckets and Baby Jesus by Myra McEntire - 3.5/5
I enjoyed this story of acceptance and wanting to be seen for more than face value. I could easily see this one developed into a full-length novel.
Welcome to Christmas, CA by Kiersten White - 4/5
There was an odd kinda-sorta magical realism thing going on with the food at the diner but other than that I enjoyed Maria's story. I liked the arc of the characters that White was able to provide in such a short story.
Star of Bethlehem by Ally Carter - 4/5
Despite being totally unrealistic, I really fell for Lydia's story. Ethan was perfect, his family was warm and loving, and the total optimist in me loved the happy ending.
The Girl Who Woke the Dreamer by Laini Taylor - 1/5
Uh... I don't even know what to say. This one was truly strange and didn't even seem to fit. I found myself wanting to start skimming (even though it was short) and after finishing it all I could think was: what did I just read?
Overall, My True Love Gave To Me was a mixed bag. There were a few contemporaries that I loved (thank you Rainbow Rowell and Stephanie Perkins!), some that were mostly enjoyable, and a couple that just missed the mark.

Overall rating: 3.5/5