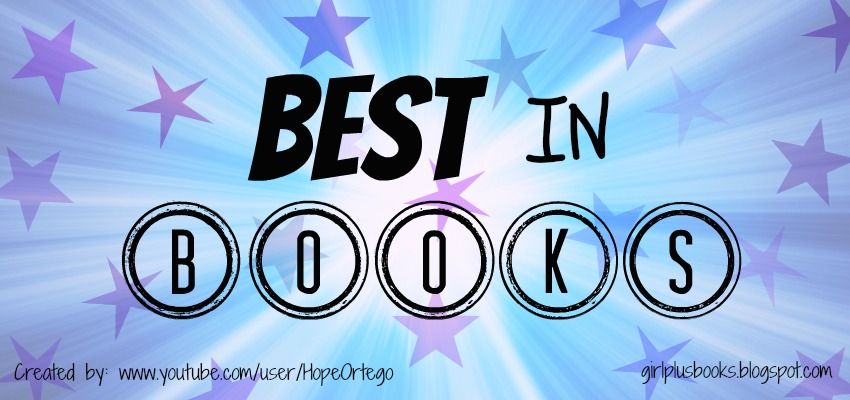 A playlist of her Best In Books videos can be found HERE.
_________________________________________________
Welcome to my Best in Books for October! Best In Books was created by my friend Hope and she was kind enough to let me join in on her feature (because she's awesome that way). Her BookTube channel is linked above and I hope you'll check her out. Now on to all the best bookishness in November...

Whether she believed it or not, Jillian was one tough cookie. She'd been through a lot and after several years of playing it safe and living as small a life as possible, she started to take risks and really came into her own. She didn't magically transform overnight and she was often unsure and questioned herself, but she really showed backbone and bravery and I loved that about her.

When I was talking to my friend Brittany about the Wait for You series and waxing poetic about Cam Hamilton she said, "Just wait until you meet Jax." And I scoffed. But yeah, now I get it. Wow. Jax is sexy and sweet and the way he treated Calla had me in a melty little puddle of swoony goo (yes, that's totally a thing). While Cam is still tops when it comes to the book boyfriends in the series, Jax sure gave him a run for his money.
Our Chemical Hearts by Krystal Sutherland
Despite the overriding serious themes, there was definitely some funny dialogue throughout Our Chemical Hearts. Tons of pop culture references and plenty of snappy banter.
"Plus, how can she be your soul mate? Didn't you tell me she'd never read Harry Potter? Do you really want to spend the rest of your life with someone like that? I mean, for God's sake, think of your children. What kind of environment would they be growing up in with such a mother?"
Sisterhood Everlasting
While I ended up giving this one a measly 2 stars and the characters were a miserable, unlikable lot, I will say that it had the biggest OMG moment of anything I read in November. It totally took me by surprise and I actually spent the next several chapters waiting for it to be a big mistake. Nope, it really happened. And I never saw it coming.
Rule
I've had a physical copy of Rule on my shelf for at least two years and since it didn't seem like I'd be picking it up any time soon I finally decided to download the audio version. And Rule is 100% bad boy. A moody, tattooed, pierced, sexy manwhore who lives by his own rules with no apologies. He doesn't do the relationship thing but naturally that changes with Shaw. It's not smooth sailing from there, though. Rule struggles to make peace with his family and the past. And just because he falls in love with Shaw doesn't mean he changes who he is - he's still a bad boy, just slightly reformed. :)
Your Inescapable Love
I don't usually get taken in by cutesy/sweet but there was a passage in Your Inescapable Love that was just precious and stood out for me. This took place during a flashback nineteen years previous when Max and Emilia first met at 9 years old.
"It's raining. Let's go inside my house. Momma says it's bad to be out when it rains."
She looks at the house behind me and then back at me. "Are you sure your parents won't be upset?"
"No, they let me and my brothers and sisters bring friends all the time."
She looks down at her boots again. "But I'm not your friend."
A loud sound cracks above and she jumps. She looks at the sky with wide eyes. Boy, she really is afraid of thunder.
"You are now. I want to be your friend, Emilia Campbell. And I will protect you from the thunder."
it rode in on
Simon vs. the Homo Sapiens Agenda
I am not a re-reader. It almost *never* happens because there are waaaay too many books I want to read to spend time on re-reading. But I made an exception last month for Simon. I listened to the audio book in October and instantly fell in love. So much that I downloaded the audio version again in November and listened to it all over again. I am totally smitten by this book and it's sure to be one of my favorites of the year.

Stay With Me
I didn't have a 5 star read in November so it was a good-not-great reading month. But even so, it was easy to pick my best book of the month. I was so invested in Jax and Calla's story. Calla stayed strong throughout situations that would have had me rocking in a corner. And Jax was an absolute dreamboat - there by her side through it all. Jennifer L. Armentrout just *does not disappoint.*
______________________________________________________
Now it's your turn: What was the best book you read in November?