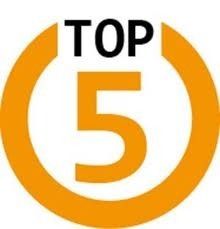 Click HERE for a complete list of participants and future topics.
This week's Top 5 Wednesday theme is about the books you meant to read in 2016 (or 2015, or 2014... ) and never got around to. The books that have been on your TBR for sooo long and you really still want to read them. We all have those, right? I mean, we're truly excited about them and yet somehow we never seem to get to them? (What's up with that, by the way?!) So here are my top five books that I meant to read in 2016 that I finally will read in 2017.
MAKING FACES
Amy Harmon
I just checked GoodReads and I added Making Faces to my TBR in February 2014. Almost three years ago. What am I waiting for?! This is one of those books that I just know I am going to love (even though I have no doubt it's going to destroy me). But I am the master of putting off reading certain books in order to prolong the anticipation and this one tops the list.
TORN
Jennifer L. Armentrout
There was such a long wait between Wicked and Torn. And I just knew that by the time Torn was finally released I would be grabbing it immediately and inhaling it. I mean, after the way Wicked ended I must know what's going to happen! But, yeah, that hasn't happened yet.
TATIANA AND ALEXANDER
Paullina Simons
This is another perfect example of me purposely not reading a book just to prolong my anticipation of it. I read The Bronze Horseman in September 2013 and it instantly became my favorite book of all time. Three years later and I still have not continued the trilogy. It's like, I'm still savoring the perfection that is The Bronze Horseman. (Plus, knowing what TBH did to me, I'm not sure my heart can handle it.) But I *will* be reading this one in 2017.
SHADOW & BONE
Leigh Bardugo
I've been meaning to read the Grisha trilogy for sooo long. I know so many people who love this trilogy and, even though I'm not a big fantasy reader, I feel like I'll really enjoy it. All three books have been sitting unread on my bookshelf for far too long.
UNDER THE LIGHTS
Abbi Glines
I read Until Friday Night, the first book in the series, back in July and bought Under the Lights as soon as it was released. But still haven't read it. Because, y'know, reasons. So I'll definitely be making this one a priority in 2017.
What book are you *finally* going to read in 2017?