Leveled (Saints of Denver #0.5) by Jay Crownover
Read: November 2017
GoodReads
SYNOPSIS:
Orlando Frederick knows what it is to be leveled by pain. Instead of focusing on his own, he's made it his mission to help others: sports stars, wounded war vets, survivors of all kinds. But when Dom, a rugged, damaged, sinfully attractive cop, makes his way into Lando's physical therapy practice, he might be the biggest challenge yet. Lando loved one stubborn man before and barely survived the fallout. He's not sure he can do it again.
Dominic Voss is a protector. The police badge he wears is not only his job, it's his identity, so when he's sidelined because of an injury, the only thing he cares about is getting back on the force. He expects Lando to mend his body, he just doesn't realize the trainer will also have him working toward a hell of a lot more. As attraction simmers and flares, Dom sees that Lando needs repair of his own...if only the man will let him close enough to mend what's broken.
MY THOUGHTS:
Having listened to all six of the Marked Men books on audio, I was excited to continue with the Saints of Denver series. I've seen Crownover refer to Leveled as the bridge between the two series so there was no way I was going to pass it up.
Dom and Lando could not have been more different – Dom's rough-edged cop to Lando's polished exterior – but they couldn't have been better matched. There was no insta-love here but the insta-lust was off the charts. I loved that Dom was so open with his feelings for Lando, even in the face of Lando's hesitancy. Having experienced a great loss, and living with guilt, Lando was understandably gun-shy about opening himself up to a new relationship. And the danger involved in Dom's job became a major factor in their story. Both guys were totally endearing in their own way and it warmed my heart to watch as they drew closer together.
Even though this clocks in at just 220 pages, the story never felt rushed and their relationship developed in such a natural way. It wasn't without its bumps along the way, but I loved seeing how these two worked their way through past hurts and current challenges to find their own happy ending.
4/5 STARS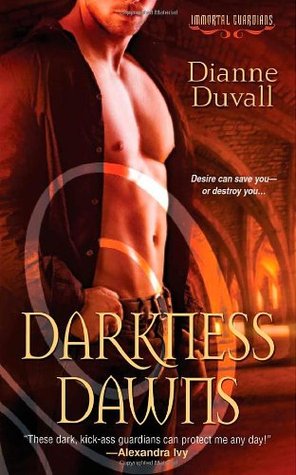 Darkness Dawns (Immortal Guardians #1) by Dianne Duvall
Read: November 2017
GoodReads
SYNOPSIS:
Once, Sarah Bingham's biggest challenge was making her students pay attention in class. Now, after rescuing a wounded stranger, she's landed in the middle of a battle between corrupt vampires and powerful immortals who also need blood to survive. Roland Warbrook is the most compelling man Sarah has ever laid hands on. But his desire for her is mingled with a hunger he can barely control…
In his nine centuries of immortal existence, no woman has tempted Roland as much as Sarah. But asking her to love him is impossible—when it means forfeiting the world she's always known, and the life he would do anything to protect.
MY THOUGHTS:
Darkness Dawns was recommended to me and I was excited for a good paranormal romance. The aspects I enjoyed were tempered by things that made me roll my eyes (a lot) but overall the scales tipped in its favor.
First, the good. I enjoyed both main characters. Sarah was no damsel in distress and showed real backbone in scary situations (Fighting off attacking vampires? She jumped in the fray. Girl power!). Roland was a deliciously tortured hero/Immortal Guardian who led a lonely existence. Their meeting, when Sarah saved Roland from an ambush attack, paved the way for plenty of action. A vampire with a vendetta and his many minions were relentless in their attacks and created plenty of drama and adventure. The secondary characters were a truly interesting lot and knowing their stories are told in future books was a bonus.
Now for the not so good. The insta-love was in full-effect. I mean, a couple days pass and they are hard-core ready to pledge their lives to each other. I get the whole going through extreme situations together but still… no. Also, the number of convenient coincidences defied belief and made for all-too-easy resolutions. It was like, seriously? I'm supposed to just go with this, huh? Lastly, and this may seem minor, but the word count devoted to organic this and organic that and the evils of chemically treated food became obnoxious. One, it quickly felt preachy, and two, it seemed pointless and out of place considering the circumstances.
Even with the issues there was enough here for me to enjoy the story overall and I'm sure I'll continue the series at some point.
3.25/5 STARS