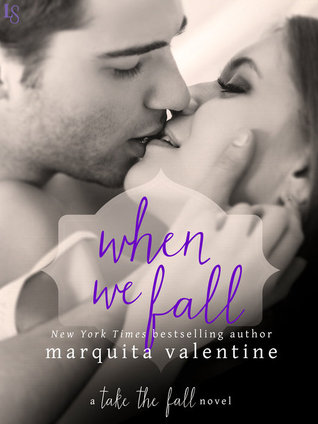 Title: When We Fall by Marquita Valentine
Series: Take the Fall #2
Genres: Contemporary Romance

Release Date: December 8, 2015 by Random House/Loveswept

Format: e-book

Source: NetGalley

The last time Piper Ross saw her best friend's sexy older brother, Jase Simmons, he was being taken away in handcuffs. Seven years later, two things haven't changed: Piper is still head-over-heels in love with him . . . and Forrestville's chief of police—Piper's dad—still hates his guts. So when Piper sees a chance to get close to Jase, she makes her move—literally. As his new roommate, and as the office manager of his tattoo shop, Piper won't be satisfied until Jase knows that she wants to be his.

The quintessential good girl, Piper is pure temptation for Jase. The only reason he's always kept his distance is because she's the last person he'd ever want to hurt. But once he realizes that Piper is ready to take the leap, everything just makes sense. Suddenly Jase feels like a new man—until nasty rumors start swirling and Piper's heartless father stirs up even more trouble. Now Jase must convince Piper that she wasn't wrong about him . . . because falling in love never felt so right.
My Thoughts
Good girl Piper has been raised to do as as she is told. And she knows what is expected of her - go to college, marry a suitable man from the country club set, settle down and basically be a trophy wife. The only problem? Piper has long been in love with her best friend's older brother.
Jase is someone her parents would never approve of, having spent the last seven years in prison. But Piper is finally ready to make her feelings known and do what it takes to make Jase see her as more than his little sister's friend.
There are obstacles in their way, of course, and watching as these two navigated a new relationship while dealing with outside challenges made for an entertaining read.

When We Fall makes good use of two tried and true romance tropes: the girl in love with her best friend's brother, and the good girl/bad boy attraction. In this case, the bad boy also has a good heart (naturally) and a serious soft side when it comes to Piper. Jase was an interesting character and I enjoyed his rough exterior and his gentle, protective side with Piper. What I appreciated most about Piper was that despite being the good girl, she was no shrinking violet. Piper had backbone and was fiercely loyal. She didn't depend on others to rescue her from tough situations but instead used her head and fought to make things right.

When We Fall does not have the most original plot, but it was easy to overlook that with the focus on two characters who, despite outward differences, brought out the very best in one another.

When We Fall is the second title in the Take the Fall series but can be read as a stand-alone.
Note: This title was provided to me in exchange for an honest review. This does not change my opinion of the book or the content of this review.
New York Times Bestselling Author, Marquita Valentine, writes sexy heroes that make you swoon and sassy heroines that make you laugh. She's the author of the bestselling contemporary romance series, Holland Springs, and the new adult romance series, Boys of the South.

Marquita met her husband aka Hot Builder at Sonic when they were in high school. She suggests this location to all of her single friends in search of a good man--and if that doesn't work, they can console themselves with cheesy tatertots. She lives in North Carolina in a very, very small town with Hot Builder and their two children.
http://www.marquitavalentine.com/