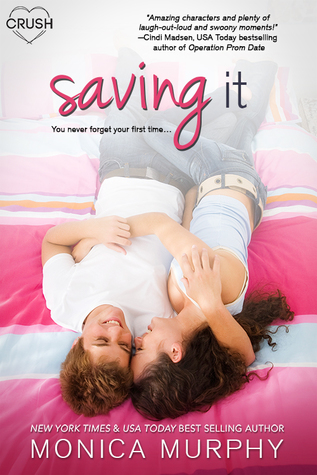 Saving It by Monica Murphy
Series:

No
Genres:

Young Adult, Contemporary
Release Date:

November 6, 2017
Format:

eARC
Source:

Entangled Publishing
Eden: Josh Evans and I have been best friends forever. He knows all my secrets, and I know all of his. So when he randomly asks me to help him lose his virginity, I sort of flip out. That's a question that sends your mind to places you've seriously never considered before. Like, you know. Having sex. With your best friend. Except Josh doesn't want to have sex with me—he wants me to help him find a girl. A nice girl who's funny and smart and cute. Except he already knows a girl just like that…

Josh: Eden Sumner is my best friend. So of course she'd be the person to help me find my perfect match, so I can drop my V card before I head off to college. Except the more we search, the more I realize that maybe the right girl has been by my side all along. I don't need Eden's help in finding me a girl to love. I'm pretty sure I'm already in love with Eden. But now she thinks I'm only after one thing…with anyone but her.

Disclaimer: This Entangled Teen Crush book is what happens when American Pie meets Friends with Benefits. It contains two best friends, plenty of angst, and lots and lots of sex talk. Reading this might have you looking at your best friend in a different light!

When Josh comes to Eden for help in losing his V card her first response is "No way!" But Josh is persistent and Eden loves a project, so… Eden finds herself making a list of possible girls for Josh to hook up with. She's giving him advice on initiating contact with the girls, she's taking him shopping for clothes, and acting as a sounding board as Josh shares his progress. They've been best friends for years so why is she suddenly bothered by Josh's attention to other girls?

Josh is tired of dodging locker room talk with the guys when the subject turns to sex and is determined not to start college a virgin. He just needs to find a girl and get his first time over with. He and Eden talk about everything so what better person to help him, right? But he can't talk to these girls like he talks to Eden and the closer he gets to what he thought he wanted… the more he can't get Eden out of his head.

Saving It was all kinds of sweet and funny, filled with real talk and aww moments. Both Josh and Eden were just so incredibly likable. I loved the alternating points of view and getting both their voices was perfect for this story. And I appreciated the spotlight on a strong girl/boy friendship and their hesitancy to do anything that could damage it. Both Josh and Eden struggled with their feelings for each other, certain that it was one-sided, even as it was obvious to their friends that they belonged together.

Speaking of their friends, they play a big role and, while Eden's friend Molly was underutilized, it was Josh's friend Abraham that almost stole the show. I thought he was a bit obnoxious at first (the loud, jokey and crass best friend) but Abraham totally grew on me and proved himself to be a great friend to both Josh and Eden. Way to go, Abraham!

While there were times when I felt the guy's dialogue didn't ring 100% true (do teenage guys actually notice a girl's "tiny waist" or ask a girl how she thinks her first time will make her feel?) it didn't stop me from enjoying Josh and Eden slowly stumbling toward each other. These two just gave me the warm fuzzies – their constant phone calls and Snapchats, their inside jokes and their bickering, and their utter devotion to one another.

Readers who enjoy a friends-to-more story will fall in love with Eden and Josh.
Note: I received an advance copy of this title from the publisher. This in no way changes my opinion of the book or the content of this review.