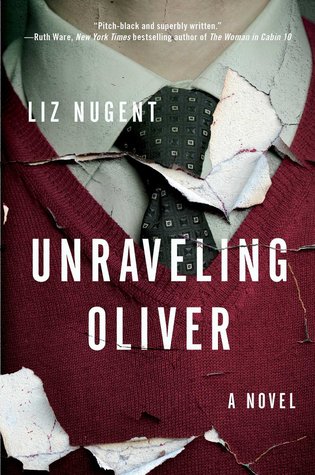 Unraveling Oliver by Liz Nugent
Series:

No
Genres:

Psychological Thriller
Release Date:

August 22, 2017
Format:

Audio
Narrators:
Sam O'Mahony, Roy McMillan, Kevin Hely, Tracy Keating, Stephen Hogan, Kathy O'Brien, Steven Laverty, Michele Moran
Source:

OverDrive
I expected more of a reaction the first time I hit her.
So begins Liz Nugent s astonishing debut novel a chilling, elegantly crafted, and psychologically astute exploration of the nature of evil.
Oliver Ryan, handsome, charismatic, and successful, has long been married to his devoted wife, Alice. Together they write and illustrate award-winning children s books; their life together one of enviable privilege and ease until, one evening after a delightful dinner, Oliver delivers a blow to Alice that renders her unconscious, and subsequently beats her into a coma.
In the aftermath of such an unthinkable event, as Alice hovers between life and death, the couple s friends, neighbors, and acquaintances try to understand what could have driven Oliver to commit such a horrific act. As his story unfolds, layers are peeled away to reveal a life of shame, envy, deception, and masterful manipulation.
With its alternating points of view and deft prose, Unraveling Oliver is a page-turning, one-sitting read that details how an ordinary man can transform into a sociopath.

WHAT I LIKED:
I very rarely venture outside of the contemporary romance genre. It's my happy place and I'm good with that. But I took a chance on something different with Unraveling Oliver and I'm so glad I did. I've seen some people comment that the story was slow and repetitive but I didn't find that at all. I was riveted from the very start and loved the gradual parceling of information as small nuggets of Oliver's life were shared.
Oliver has beat his wife into a comatose state and everyone is shocked, including Oliver who says he was "fond of her, in my way". Outwardly, Oliver is handsome, successful and charming, if not a bit private. But he is also cold, controlled, shockingly self-absorbed and practically emotionless. Was he born like that or did his upbringing and environment make him that way? I was fascinated by the series of events that led to his violent attack and kept pondering the nature vs. nurture aspect of the story. What makes a sociopath?
The story is brilliantly told through eight different points of view including a childhood friend, Oliver's mistress, an estranged half-brother, and Oliver himself. There are so many layers to the story and it was fascinating to see the full picture begin to take shape as more of the past was learned and more pieces of the puzzle began to fall into place. There were so many threads that were woven together, lives that intersected, and I was amazed at Nugent's ability to create such an intricate web and then slowly untangle it.
The narration was perfection and played such a big part in my enjoyment of the story. The voices, the accents, the delivery – all were so distinct and brought the story to life. Oliver's cold delivery, Barney's plaintive chronicle, Eugene's disjointed and utterly heartbreaking thoughts. Each voice added to the overall enjoyment.
This would make an excellent book club or buddy read because there are so many questions raised and so many points perfect for discussion.

WHAT I DIDN'T LIKE:
Honestly, not much. If I was feeling nit-picky I'd say that the final chapter could have been a teeny bit longer. It would have been interesting to get just a little bit more of each character in the aftermath. But that's just wishful thinking and I was totally satisfied with the ending.
4.5/5 STARS
HAVE YOU READ UNRAVELING OLIVER?