A playlist of her Best In Books videos can be found HERE.
_________________________________________________
Best in Books was created by my friend Hope and she was kind enough to let me join in on her feature (because she's awesome that way). Her BookTube channel is linked above and I hope you'll check her out. Now on to all the best bookishness in March...
Macy from Love and Other Words
It's hard to come up with concrete, specific reasons why Macy was such a stand-out character for me. She wasn't fighting wars or saving kingdoms (but she was a pediatric doctor so she was saving kids). She was just a regular woman and I think it was the fact that she was so real, and felt so totally realistic, that I cared for her so much. I totally pulled for Macy and wanted a happy ending for her so much. Because goodness knows she deserved it.
Could I love this guy any more?! I adored Elliot. Teenage Elliot was what every girl should have for her first love. Sweet and kind and patient, smart and funny and fun-loving. He was just So. Good. Yes he made mistakes but I loved his openness and his honesty. Adult Elliot was every bit as lovable. Laid back, incredibly patient, and heartbreakingly honest about his feelings. Elliot took my breath away.
Lake Silence by Anne Bishop
Something about this cover just conveys a kind of ominous feel to me and I love it. While there may be some confusion as to who is depicted on the cover - a blogger friend assumed it was the main character while I thought it was the Lady of the Lake (in human form) - I think the look and feel totally fit the story.
What Happened by Hillary Rodham Clinton
Clinton wrote these lines speaking about women in politics, but I felt it really spoke to all women.
"

In my experience, the balancing act women in politics have to master is challenging at every level, but it gets worse the higher you rise. If we're too tough, we're unlikable. If we're too soft, we're not cut out for the big leagues. If we work too hard, we're neglecting our families. If we put family first, we're not serious about the work. If we have a career but no children, there's something wrong with us, and vice versa. If we want to compete for a higher office, we're too ambitious. Can't we just be happy with what we have? Can't we leave the higher rungs on the ladder for men? Think how often you've heard these words used about women who lead: angry, strident, feisty, difficult, irritable, bossy, brassy, emotional, abrasive, high-maintenance, ambitious (a word that I think of as neutral, even admirable, but clearly isn't for a lot of people).

"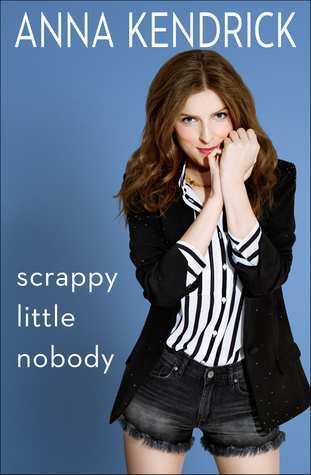 Scrappy Little Nobody by Anna Kendrick
Listening to this one on audio provided so many laugh out loud moments. I listened on my daily commute so I'm sure the drivers in the cars around me thought I was an absolute loon if they happened to look over while I was giggling or guffawing at something Anna said. Here are a couple of my favorites:
"Jessica became my first enemy. Like most enemies in my life, I hoped to punish her with passive-aggressive glances and silent-but passionate!-resentment. She retaliated by forgetting I existed. Ah, the moral victory."
"People who grew up in major cities may wonder why the hell I would act like it's a big deal to be unaccompanied in New York City at that age. It's populated with both adults and children, it's a functioning metropolis, Kevin McCallister was only ten in Home Alone 2: Lost in New York, and that kid saved Christmas. Conversely, people from suburban areas act like my parents sent me wandering around the site of the Baby Jessica well, blindfolded and holding a flaming baton. So pick a side and prepare to judge me either way!"
I don't know if Seth is actually supposed to be a bad-boy type but he's definitely edgier than the other male lead, Aiden. I suppose I'm supposed to be swooning over Aiden and considering he and Alex the total OTP, but Aiden is a little too perfect. Seth is far more interesting and entertaining.
This mystery-thriller had so many surprising revelations that my head was spinning. Even some that I suspected were revealed in such a way that it was still shocking. There were characters who were shady, whose motivations weren't always clear, and whose actions sometimes took me by surprise. Each event kept me itching for more and the moments I never saw coming were twisted but satisfying.
Okay, typically I would not include a scene (or quote or anything else) that could not be explained or be put into context because of possible spoilers. But this particular scene just got to me and it was certainly a notable swoon-worthy moment. So, sorry I can't provide any context or explain what or why this is swoon-worthy, but just take my word for it. And if you've read Royally Endowed, then you know.
So here's my oh-so-cryptic moment: The scene near the very end when Logan tells Ellie to close her eyes. He does this so she won't have to see what's about to happen and that just killed me. It was so completely selfless, and so completely swoony, that it did me in.
Simply put, I fell in love with Love and Other Words. I tumbled hard and fast into Macy and Elliot's story - hurting for them both in the present-day chapters and reveling in the past chapters, even though I knew something devastating had to be coming. These were two special people who found one another early in life... until circumstances bisected them. I hesitate to call this a second-chance romance because that reduces it to a simple trope when it's so much more than that. Macy and Elliot came alive for me and I loved their story.
______________________________________________________
Now it's your turn:
What is the best book you read in March?