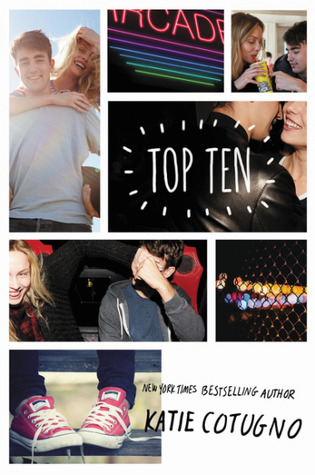 Top Ten by Katie Cotugno
Series:

No
Genres:

Young Adult, Contemporary
Release Date:

October 3, 2017
Format:

eARC
Source:

Edelweiss/Balzer + Bray
Ryan McCullough and Gabby Hart are the unlikeliest of friends. Introverted, anxious Gabby would rather do literally anything than go to a party. Ryan is a star hockey player who can get any girl he wants—and does, frequently. But against all odds, they became not only friends, but each other's favorite person. Now, as they face high school graduation, they can't help but take a moment to reminisce and, in their signature tradition, make a top ten list—counting down the top ten moments of their friendship:

10. Where to begin? Maybe the night we met.
9. Then there was our awkward phase.
8. When you were in love with me but never told me…
7. Those five months we stopped talking were the hardest of my life.
6. Through terrible fights…
5. And emotional makeups.
4. You were there for me when I got my heart broken...
3. …but at times, you were also the one breaking it.
2. Above all, you helped me make sense of the world.
1. Now, as we head off to college—how am I possibly going to live without you?

I feel like I just lived through four years of the trials and tribulations of high school with Gabby and Ryan. And I mean that in both the best and worst ways possible (because whoever said high school is the best time of your life is a terrible liar). These two characters had me wanting to hug them, wanting to shake some sense into them, and most of all just wanting them to find their way and be happy.

With each chapter visiting a pivotal time in their friendship, Top Ten delves into the ups and downs of Ryan and Gabby's ever-evolving relationship. On the surface, Ryan, easy-going and popular, and Gabby, anxious and shy, are unlikely friends. But in each other they find someone they can truly be themselves with.

I related to Gabby to a ridiculous degree and it was sometimes almost painful to watch as she tried to navigate her daily life while dealing with varying levels of anxiety. She chafed against being told to "just try" doing the very things that sent her into a panic and yet still sometimes made the effort (usually with disastrous results). From best friend Ryan, to her girlfriend Shay, to her family, Gabby struggled with not being enough for those around her.

Outwardly Ryan was a carefree character who had it all – a gifted hockey player, friends, girls, parties. But Ryan struggled with not only his own insecurities – outside of hockey did he have anything to offer? – but also to please his volatile father whose love and attention felt conditional.

I simply loved the relationship between these two characters. Loved it. Their friendship was the real deal. They were (usually) brutally honest with each other. They called each other out. They broke each other's hearts. They were one another's touchstone. It wasn't always smooth sailing – far from it – but when it came down to it, they shared a connection that stood the test of time.

From freshman year to the summer after graduation, through parties and girlfriends, friends and family, Cotugno brings to life two characters who are each other's Most Important Person – and defines what that truly means for Gabby and Ryan.
Note: I received an advance copy of this title from the publisher in exchange for an honest review. This in no way changes my opinion of the book or the content of this review.