The Gentleman's Guide to Vice and Virtue
Mackenzi Lee
Publication date: June 27, 2017
Genres: Young Adult, Historical, LGBT
Henry "Monty" Montague was born and bred to be a gentleman, but he was never one to be tamed. The finest boarding schools in England and the constant disapproval of his father haven't been able to curb any of his roguish passions—not for gambling halls, late nights spent with a bottle of spirits, or waking up in the arms of women or men.


But as Monty embarks on his Grand Tour of Europe, his quest for a life filled with pleasure and vice is in danger of coming to an end. Not only does his father expect him to take over the family's estate upon his return, but Monty is also nursing an impossible crush on his best friend and traveling companion, Percy.



Still it isn't in Monty's nature to give up. Even with his younger sister, Felicity, in tow, he vows to make this yearlong escapade one last hedonistic hurrah and flirt with Percy from Paris to Rome. But when one of Monty's reckless decisions turns their trip abroad into a harrowing manhunt that spans across Europe, it calls into question everything he knows, including his relationship with the boy he adores.
My first thought when finishing The Gentleman's Guide to Vice and Virtue? Why did I wait so long to read this?! Because I totally enjoyed this historical tale that reads like an 18th century road trip. In Monty, Lee managed to create a character who was completely self-absorbed, privileged, and a drunken rake, and yet still totally lovable. Monty's flippant wit and sarcasm hid a darker private life and I loved the evolution of his character over the course of the story. And then there was precious Percy who I adored. Percy is thoughtful and sensitive and has his own set of challenges as a biracial young man in 1700's England. There was never a dull moment and how could there be in a story that managed to seamlessly weave together action, adventure, romance, pirates, history, feminism, humor, and so much more. I switched between reading and listening and the audio narration is perfection so you can't go wrong no matter how you choose to enjoy this one. The Gentleman's Guide is a fantastically good time.
Someone I Used to Know
Patty Blount
Publication date: August 7, 2018
Genres: Young Adult, Contemporary
It's been two years since the night that changed Ashley's life. Two years since she was raped by her brother's teammate. And a year since she sat in a court and watched as he was given a slap on the wrist sentence. But the years have done nothing to stop the pain.


It's been two years of hell for Derek. His family is totally messed up and he and his sister are barely speaking. He knows he handled it all wrong. Now at college, he has to come to terms with what happened, and the rape culture that he was inadvertently a part of that destroyed his sister's life.



When it all comes to a head at Thanksgiving, Derek and Ashley have to decide if their relationship is able to be saved. And if their family can ever be whole again.
Someone I Used to Know is a powerful story of one girl's fight to move from victim to survivor after being raped by a classmate. What I appreciated most was that Blount chose not to focus solely on Ashley but also told her brother's story. Derek had to come to terms with his own participation in the "game" that was a tradition for the football team and led to his sister's rape. Derek's story was every bit as moving and compelling as Ashley's as he struggled with guilt and his own perceptions and actions. Ashley was a character who was easy to pull for and admire because she refused to be silenced and would not allow her fear to stop her from demanding change. Blount takes a hard look at rape culture without ever becoming preachy. Shining a spotlight on the 'boys will be boys' mentality, victim blaming, locker room talk, and overtly sexual advertising, Someone I Used to Know does an amazing job of showcasing the effects of sexual assault on not just the victim but family, friends, and the community. While not always an easy read (Ashley's memories of the rape interspersed throughout the book are enough to make you heartsick), this is one that should be in every school and every library.
Note: I received a complimentary copy of this book from the publisher. This does not my opinion of the book or the content of this review. I received no compensation and my review is voluntary.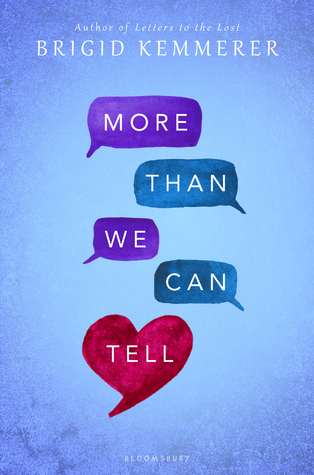 More Than We Can Tell (Letters to the Lost #2)
Brigid Kemmerer
Publication date: March 6, 2018
Genres: Young Adult, Contemporary
Rev Fletcher is battling the demons of his past. But with loving adoptive parents by his side, he's managed to keep them at bay...until he gets a letter from his abusive father and the trauma of his childhood comes hurtling back.


Emma Blue spends her time perfecting the computer game she built from scratch, rather than facing her parents' crumbling marriage. She can solve any problem with the right code, but when an online troll's harassment escalates, she's truly afraid.



When Rev and Emma meet, they both long to lift the burden of their secrets and bond instantly over their shared turmoil. But when their situations turn dangerous, their trust in each other will be tested in ways they never expected. This must-read story will once again have readers falling for Brigid Kemmerer's emotional storytelling.
Rev was a stand-out secondary character when I read Letters to the Lost* so I was thrilled to get his story in More Than We Can Tell. And I was not disappointed. Learning more about Rev's past was heartbreaking but what was equally sad was how his past continued to impact his present. His earlier years with his father were filled with physical and emotional abuse, and twisted interpretations of love and religion. Now his father is contacting him and trying to reassert his control and Rev's life is thrown into turmoil. Despite the amazing support system provided by his adoptive parents, Rev hides how tormented and emotionally fragile he actually is. New friend Emma is able to provide an impartial point of view even while she is dealing with issues of her own. While I didn't connect with Emma as strongly as I did with Rev (her naivete often left me frustrated), I was still drawn into her story and was invested when things took a turn into scary territory. But it's Rev that captured my heart and will stay with me. This kind, introspective, mature, and self-aware young man made a huge impression on me and is without a doubt one of my favorite characters
ever
.
*More Than We Can Tell takes place in the same universe as Letters to the Lost, and features many of the same characters, but can easily be read as a stand-alone novel.