Just answer three questions and share what you're reading.
WHAT ARE YOU CURRENTLY READING?
One Day in December - Josie Silver
This one has been slow-going and it has nothing to do with the book and everything to do with lack of reading time. I'm totally enjoying this story of missed opportunities and I keep wanting to beat my head against the wall for all the inopportune circumstances that are keeping these people apart. Who happen to be perfect for one another. I'm at about 35% and I've got my fingers crossed that I'll finish it this weekend.
WHAT DID YOU RECENTLY FINISH READING?
The Gentleman's Guide to Vice and Virtue - Mackenzi Lee
What a totally good time this one was! Monty was hilarious (even while he was self-absorbed and spoiled) and I loved the perfect balance of plot and characterization. Loads of fun!

WHAT DO YOU THINK YOU'LL READ NEXT?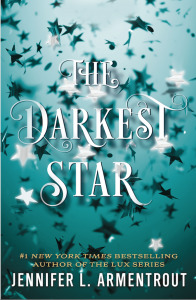 Drumroll, please! Oh. YES. Coming up next is none other than The Darkest Star. One of my most anticipated books of the year. A return to the Lux world! Luc's book! And Armentrout has assured me (well, not me personally LOL) that there will be plenty of cameos from favorite characters. I. Am. So. Ready!
What are you currently reading?
I wanna know! :)