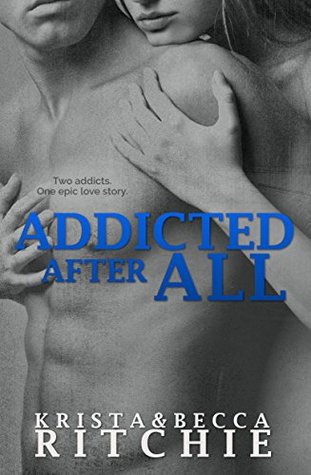 Title: Addicted After All by Krista & Becca Ritchie
Series: Addicted series #3
Genres: New Adult, Contemporary
Release Date: October 30, 2015 by K.B. Ritchie
Format: Kindle
Source: Purchased
Two addicts. One epic love story.

Prepare for the worst.

That's what Lily and Lo try to do when Jonathan Hale schedules an "important" meeting. The problem: after being swept into the public eye and battling their addictions, they're not sure what the worst is anymore.

In a sea of many changes—including Ryke & Daisy living with them—Lily realizes that the best part of her fluctuating hormones might just be the worst.

Her sex drive is out of control.

Loren knows that she's insatiable, but he's not giving up on her. She's too much a part of him. And as he carries more and more responsibility, some of the people that he loves doubt his resolve.

In the conclusion to their love story, Lily & Lo stand side-by-side to fight, one last time, for their happily ever after.
Due to the 2-year gap between Addicted for Now (Addicted #2) and Addicted After All (Addicted #3), you must read Thrive (Addicted #2.5) or the Calloway Sisters spin-off series before reading Addicted After All.
My Thoughts
**There are likely spoilers aplenty here for the previous books in the series. If you have not read the books prior to Addicted After All, you've been warned. Nicely, of course.**
My love affair with the Addicted series continues. In Addicted After All the focus returns to my favorite couple, Lily and Lo. The series started with them and I continue to have such a soft spot for these two characters who have struggled so much and come so far.
No longer weighed down by self-pity and hatred,
I can go farther than I dreamed. - Loren Hale
I loved slipping back into the world of the Calloway's (and Hale's, and Cobalt's, and Meadows). And what struck me the most in Addicted After All was the amazing character growth in Loren Hale. The years of alcohol abuse, isolation, self-loathing - he's put it all behind him. Sure there still were moments of self-doubt, but this is Lo 2.0. A man who has managed to come out on the other side of his addiction and is so much better for it. He has finally realized that he can be more. He didn't get there alone - Ryke helped him on the path to sobriety, Connor has shown him friendship and support, and Lily has always been by his side - but he did it. And seeing Lo step up and willingly take on the challenge(s) in front of him, to have the feeling that he could be the one that others leaned on... I just wanted to cheer.
This is a new Loren Hale.
One that has learned from all of his mistakes.
One that understands right and wrong
and every gray, messy part in between.
As a whole, the Addicted gang were more cohesive than ever. The experiences they've had, coupled with all of them now living under one roof, have brought them even closer together and the support they show for one another is so solid. Their personal struggles, their career issues, the continued intrusion of the paparazzi and the persistent rumors have not torn them apart but only reinforced their bonds. It was a recurring theme throughout the book and I loved it.
I knew from the beginning that we'd be addicted after all.
I just didn't know whether we'd be at a better place
than we were before. - Loren Hale
So much of Addicted After All is about healing and forgiveness. Seeing these characters reach those milestones, and knowing what it's taken for them to get there, has been a truly emotional ride. While I'm excited to continue on with Fuel the Fire and Long Way Down, I am a little heartbroken that this is the final book centering on Lily and Lo. They've long been my favorite couple and I'll miss their special relationship and unique points of view.