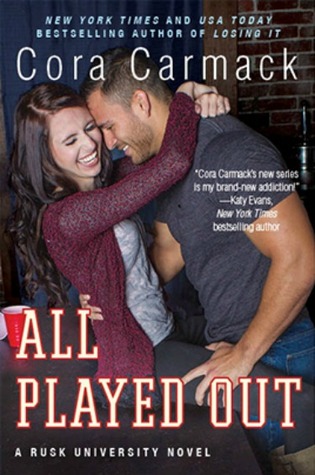 Title: All Played Out by Cora Carmack
Series: Rusk University #3
Genres: New Adult, Romance

Release Date: May 12, 2015 by William Morrow

Format: Trade Paperback

Source: Purchased

First person in her family to go to college? CHECK.
Straight A's? CHECK.
On track to graduate early? CHECK.
Social life? …..yeah, about that….

With just a few weeks until she graduates, Antonella DeLuca's beginning to worry that maybe she hasn't had the full college experience. (Okay... Scratch that. She knows she hasn't had the full college experience).

So Nell does what a smart, dedicated girl like herself does best. She makes a "to do" list of normal college activities.

Item #1? Hook up with a jock.

Rusk University wide receiver Mateo Torres practically wrote the playbook for normal college living. When he's not on the field, he excels at partying, girls, and more partying. As long as he keeps things light and easy, it's impossible to get hurt... again. But something about the quiet, shy, sexy-as-hell Nell gets under his skin, and when he learns about her list, he makes it his mission to help her complete it.

Torres is the definition of confident (And sexy. And wild), and he opens up a side of Nell that she's never known. But as they begin to check off each crazy, exciting, normal item, Nell finds that her frivolous list leads to something more serious than she bargained for. And while Torres is used to taking risks on the field, he has to decide if he's willing to take the chance when it's more than just a game.

Together they will have to decide if what they have is just part of the experiment or a chance at something real.
My Thoughts
I've been a fan of Cora's Rusk University series since cracking the cover of the first installment, [book:All Lined Up|18505845]. I thought her Losing It series was good, but I have completely fallen for the characters at Rusk University. All Played Out is no exception.
In this third outing, Torres finally gets the spotlight, along with Nell, previously known only as Dylan's brainy roommate. Nell has kept her nose to the grindstone and is set to graduate early. But now, with just a month left of school, she's suddenly worried that all work and no play means she may regret missing out on a lot of typical college experiences. So what does a girl like Nell do? She Googles "College Bucket List," of course! And she's determined to cross every item off her list before she graduates.
Good-time guy Torres could have written Nell's bucket list in his sleep. The popular football player is all about having a good time: friends, parties, girls. Just keep it all fun and no one gets hurt. But then he meets Nell and sees her list. And he knows he's just the guy to help her accomplish every last item.
Watching these two come together was just nonstop fun. The oh-so-serious Nell who thought through every decision (usually with a list of pros and cons) and outgoing Torres who is serious about football but everything else is just a good time waiting to be had. They balanced each other so perfectly. And the chemistry when these two were together - loved it!
I appreciated that Nell and Teo weren't cookie cutter stereotypes: The Brain and The Jock. Instead we see Nell's insecurities and fears, worried she's making all the wrong decisions for her future. Torres is so much more than the life of the party: gun-shy for relationships after a broken heart, sweet, patient and endearing. (Is it just me or does the Rusk University football team have the swooniest guys ever?)
Cora Carmack has a writing style that just flows so well and is so easy and fun. She writes great dialogue and is the master at creating awkward situations for her female leads (which makes her leading ladies so relatable). If you're already a fan of the Rusk University series, I highly recommend All Played Out. And if you haven't met the guys (and girls) at Rusk University, what are you waiting for?!
Cora Carmack is a twenty-something writer who likes to write about twenty-something characters. She's done a multitude of things in her life-- boring jobs (like working retail), Fun jobs (like working in a theatre), stressful jobs (like teaching), and dream jobs (like writing). She enjoys placing her characters in the most awkward situations possible, and then trying to help them get a boyfriend out of it. Awkward people need love, too. She is the New York Times and USA Today bestselling author of the Losing It series.
Have you read anything by Cora Carmack?
Are you a fan of "opposites attract" stories?