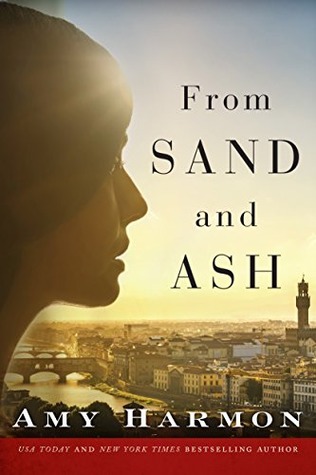 From Sand and Ash by Amy Harmon
Genres:

Historical Fiction
Release Date:

December 1, 2016
Format:

Kindle
Source:

NetGalley
Synopsis
Italy, 1943—Germany occupies much of the country, placing the Jewish population in grave danger during World War II.

As children, Eva Rosselli and Angelo Bianco were raised like family but divided by circumstance and religion. As the years go by, the two find themselves falling in love. But the church calls to Angelo and, despite his deep feelings for Eva, he chooses the priesthood.

Now, more than a decade later, Angelo is a Catholic priest and Eva is a woman with nowhere to turn. With the Gestapo closing in, Angelo hides Eva within the walls of a convent, where Eva discovers she is just one of many Jews being sheltered by the Catholic Church.

But Eva can't quietly hide, waiting for deliverance, while Angelo risks everything to keep her safe. With the world at war and so many in need, Angelo and Eva face trial after trial, choice after agonizing choice, until fate and fortune finally collide, leaving them with the most difficult decision of all.
My Thoughts
From Sand and Ash is a rare and remarkable novel and I will never be able to do it justice with my review. Simply put, in four decades of reading, it is one of the best books I have ever read.



"Confession: My name is Batsheva Rosselli, not Eva Bianco, and I am a Jew. Angelo Bianco is not my brother but a priest who wanted only to protect me from the very place I now find myself."



Angelo and Eva were raised side by side for most of their childhood. Their differences – Angelo was American and Catholic, Eva an Italian Jew – were not enough to stop the unbreakable bond they formed. Despite a deep love for one another, Angelo follows a path of servitude in the Church, leaving Eva to pursue her music. However, the years that pass do nothing to diminish their feelings for one another.



"I have always been yours, Angelo," she said, echoing the very words he'd thought while he'd prayed. She was his. "But you have never been mine."

Suddenly war is at their doorstep. Life for Eva becomes more dangerous with each passing day and Angelo has sworn to protect her. While Angelo works within the Church to hide and shelter as many Jews as possible, Eva also finds herself in defiance of the Germans occupying Italy and takes increasingly dangerous risks.

"I would do anything for you, Eva. Anything." He thought of what Camillo had said about not only blessing lives, but saving Jewish lives, and it gave him the strength to continue. "But I can't have you and the church. I need the church, Eva. I need the church, and I believe the church needs me."

Harmon's writing had me completely immersed and I felt as if I were living this story right along with Eva and Angelo. Through her imagery, narration, and fully formed characters, I was transported to another time and place – where unimaginable horrors were combatted with everyday acts of heroism. Knowing of the atrocities committed during WW II does nothing to soften the depiction of it here. So many scenes are heart-wrenching but there is also such beauty in the unfailing faith and hope portrayed.



"Many will seek to tell me what God's will is. But nobody knows. Not really. Because God is quiet. Always. He is quiet, and my anguish is so intense, so incredibly loud, that right now I can only do my will and hope that somehow, it aligns with his."



Eva and Angelo are unforgettable characters. Eva was spirited and fearless and, while she came to know fear on a daily basis, she had a strength of character that had her continuing to do what she knew to be right. Angelo was a man of such faith – selfless and compassionate, working tirelessly to save lives at constant risk to his own life. They did not just endure, they fought; and not just for their own survival but for countless others who found themselves on the wrong side of a war. Innocents whose only crime was to be born a Jew.

"The longer he remained on this earth, the more he was sure that mankind had no clue about God or heaven. Not when they used him as an excuse to kill, to punish, to discriminate."

From Sand and Ash is not an easy read. It showcases a cruelty that is impossible to imagine. But it is an absolute gem in its beautiful depiction of love, faith, endurance and hope. This book is the perfect example of why I read.
5/5 STARS