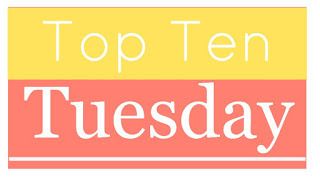 Top Ten Tuesday is an original feature/weekly meme
This week's Top Ten Tuesday topic is a freebie so I'm going to focus on series. The ones I need to continue with and finish and the ones I want to start. First, the ones I've already started...
#1 - THE OFF-CAMPUS SERIES BY ELLE KENNEDY
I *finally read the first book, The Deal, last year (and loved it) so I really need to get it in gear and continue on with the series. Side note: Not sure I love these beefcake covers but I'm also not thrilled with the new covers. Which do you prefer?
#2 - THE BREATHING SERIES BY REBECCA DONOVAN
I've owned this series for ages and finally read the first book last year. It wasn't what I expected (for some reason I thought is was NA but it's definitely YA) but I still want to continue with the series.
#3 - THE ROSEMARY BEACH SERIES BY ABBI GLINES
I've read all but the final book in the series. This series is like crack and I can't help myself. But the final book centers on a character that has long been the series antagonist and I'm so not interested in her sob story of why she's a total witch. I really need to just read it so I can finish the series but seriously... Nan. Ugh!
#4 - IN THE COMPANY OF KILLERS SERIES BY J.A. REDMERSKI
Another series where I've only read the first book but I desperately want to gobble up the whole series!
#5 - THE BRONZE HORSEMAN TRILOGY BY PAULLINA SIMONS
This one plagues me. Because it's been 3 years since I read The Bronze Horseman and it instantly became my favorite book *ever.* And yet I haven't managed to continue with the series in all this time. That first book hurt my heart so much that I know I'm in for serious emotional trauma when I pick up the next book.
And now for the series that I want to start...
#6 - THE GRISHA TRILOGY BY LEIGH BARDUGO
Can someone tell me what in the world I am waiting for? I want to read this series. Everyone seems to love it. And yet I always push it aside for something else. Gah!
#7 - THE THOUGHTLESS SERIES BY S.C. STEPHENS
This is another series that has been sitting on my shelf for a long time. I'm a sucker for angsty new adult so I definitely want to read this series.
#8 - THE LUNAR CHRONICLES BY MARISSA MEYER
This isn't my typical kind of read (I very rarely reach for fantasy) but I hear nothing but raves for this series and I'm excited to give it a try.
#9 - ANNA AND THE FRENCH KISS SERIES BY STEPHANIE PERKINS
I'm convinced everyone on the planet has read this series except me!
#10 - THE ARCANA CHRONICLES BY KRESLEY COLE
I have two friends who rave about this series so I'm excited to dive in.
Have you read any of these?
Which series should I make a priority?