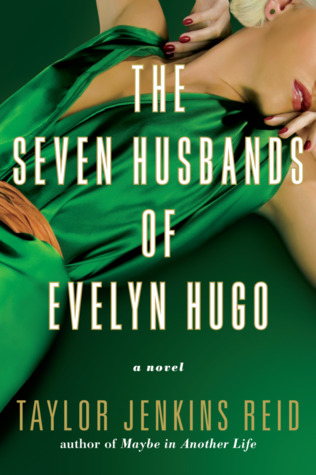 The Seven Husbands of Evelyn Hugo by Taylor Jenkins Reid
Series:

No
Genres:

Contemporary, Historical, Women's Fiction, Romance
Release Date:

June 13, 2017
Format:

Audio
Narrator:
Alma Cuervo, Julia Whelan, Robin Miles
Source:

OverDrive
Evelyn Hugo is finally ready to tell the truth about her glamorous and scandalous life. But when she chooses unknown magazine reporter Monique Grant for the job, no one in the journalism community is more astounded than Monique herself. Why her? Why now?

Monique is not exactly on top of the world. Her husband, David, has left her, and her career has stagnated. Regardless of why Evelyn has chosen her to write her biography, Monique is determined to use this opportunity to jumpstart her career.

Summoned to Evelyn's Upper East Side apartment, Monique listens as Evelyn unfurls her story: from making her way to Los Angeles in the 1950's to her decision to leave show business in the late 80's, and, of course, the seven husbands along the way. As Evelyn's life unfolds through the decades—revealing a ruthless ambition, an unexpected friendship, and a great forbidden love—Monique begins to feel a very real connection to the actress. But as Evelyn's story catches up with the present, it becomes clear that her life intersects with Monique's own in tragic and irreversible ways.
It was more than a year ago that I was first introduced to the writing of Taylor Jenkins Reid. I read One True Loves and was utterly captivated by the story. And when I finished the book my first thought was: I have to read more by this amazing writer! And yet somehow it wasn't until recently that I picked up my next book by TJR. And what a book it was. You know how you see critics throw around the term "tour de force?" Well, that's exactly the phrase I thought of when I finished The Seven Husbands of Evelyn Hugo. This one is not to be missed.
Monique is a staff writer for a magazine and is surprised when she is summoned to the luxurious home of Hollywood icon Evelyn Hugo. She's positively stunned when she learns why. Evelyn Hugo has chosen Monique, a virtual unknown, to write her biography. A book she says is to be published after her death; one that is guaranteed to be a bestseller. Monique, having no idea why Evelyn would seek her out for such a task, and getting no real answer from Evelyn (other than "By the time we are through, you won't have any questions."), agrees to the arrangement. And it is there, with Evelyn's history, and Evelyn's unflinching delivery, that the real story begins.
Evelyn is one complex, commanding character. She is bold, ambitious, fearless and unapologetic. She makes it clear that her motivations were usually self-serving – and that she would do it all again. This was no starry-eyed ingénue who ran when times got tough or when doors were slammed in her face. Evelyn was a force to be reckoned with and when her career was on shaky ground she fought her way back to the top. She didn't always do the right thing, she used people to her advantage, but even so, I respected her drive, her unwillingness to give up, and her devotion and loyalty to those she loved.
Evelyn's career spanned decades and the 'insider look' at Hollywood through the years was fascinating. Starting in the 1950's, with the all-controlling movie studios where star were under exclusive contracts, Evelyn chronicles both her career and her turbulent personal life – including the eponymous seven husbands, and the true love of her life. And I gobbled up every morsel. Her rags to riches story was totally engrossing and I loved the way she delivered the overarching story of her life, both the titillating and the mundane, with such candor. And the eventual revelation of how her life intersects with Monique's was one that I never saw coming.
I loved the addition of tabloid reports and newspaper articles interspersed throughout the story. Not only did it offer an outside point of view to Evelyn's life, but it was a fitting inclusion considering so much of Evelyn's life was lived in public and chronicled in print. In addition,
the narration was top notch and made for an incredible listening experience
. Alma Cuervo was captivating as the title character and her delivery brought Evelyn to life. Several times I found myself wanting to go watch all of Evelyn's old movies and had to remind myself (more than once) that she was, in fact, fictional.
Reading The Seven Husbands of Evelyn Hugo was a totally immersive experience, with so many topics that were woven in seamlessly, but never at the expense of the story. If you like a character that is so richly drawn that she begins to feel like a real person, if you enjoy the glamour of old Hollywood, if you want to immerse yourself in a juicy tale that spans decades, pick this one up and prepare to meet Evelyn Hugo.