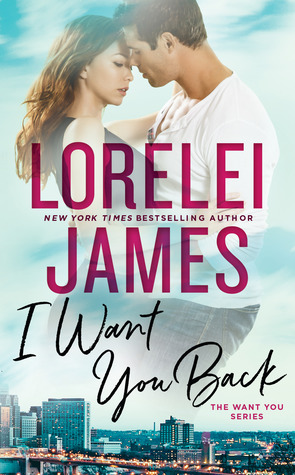 I WANT YOU BACK
Lorelei James
Publication date: April 2, 2019
Series: Want You #1
Genres: Adult, Contemporary Romance
Format: eARC
Source: Berkley and NetGalley
⭐⭐⭐⭐
GOODREADS * AMAZON
Former NHL star Jaxson Lund has returned to the Twin Cities, but he's at loose ends, unsure if he belongs at Lund Industries, or where he stands with Lucy, his ex-girlfriend and mother of his daughter, Mimi. Despite the signs she'd like to leave him in the penalty box, the attraction burning between them reinforces his determination to prove that he deserves a second chance...

Lucy Quade is in a good place with a steady job, a nice apartment, and a well-adjusted daughter, which is why she's hesitant when Jax insists on co-parenting. It's not that Lucy doesn't trust Jax...she's just unconvinced he can handle multiple responsibilities when he's been singularly focused on playing hockey. But when issues arise with Mimi, Lucy's shocked at how levelheaded and paternal he acts, giving her a glimpse of the Jax she used to know, the sexy, sweet man she fell for years ago.

Once Lucy lets her guard down, Jax goes all in to show her how good they are together, but will their past remain too large an obstacle to ever overcome?
M Y T H O U G H T S
What I Liked:
Ø

Jaxson. He may have gone off the rails previously, but he was a man who had faced his shortcomings and was intent on doing better and being better.
Ø

Lucy. She was one tough cookie – smart and sassy – without being hard or bitter. She was understandably wary of Jaxson and his intentions, but she also allowed herself to recognize the man he was now instead of dwelling too much on the past.
Ø

Low-drama, low-angst. Jax and Lucy's story was written without over the top drama and I loved that it felt based in reality. These were adults who actually acted like adults while dealing with real-life situations, like co-parenting, addiction recovery, navigating a new relationship, child behavioral issues.
Ø

The chemistry between Lucy and Jax. And I'm not even referring to sexual chemistry. These were two people who had a history together and it showed. They way they understood each other's triggers and quirks, they way they were in-sync and could calm one another with a word or a touch. I loved that.
Ø
The ending. It was such a full-circle moment and it just filled my heart and gave me all the good feels.
What Left Me Wanting:
Ø

There were times when the dialogue didn't quite ring true, particularly on the few occasions when it felt as if a character was giving a long speech instead of having a conversation.
Ø
It was tricky at first to keep all the members of the Lund family straight. Between all the siblings and cousins it was a little confusing. I understand that I Want You Back is a spin-off from Need You series from James and many of these characters were featured in those books. But as someone who had
not read the original series, it too a while to sort everyone out.
Overall:
I'm a sucker for a second-chance romance and I Want You Back delivered that and more. I was totally on-board for this smart and sexy romance. The main characters were so inherently likable and I was completely invested. I'll definitely be reading more from Lorelei James.
Note: I received a complimentary copy of this book from the publisher. This does not impact my opinion of the book or the content of this review. I received no compensation and my review is voluntary.