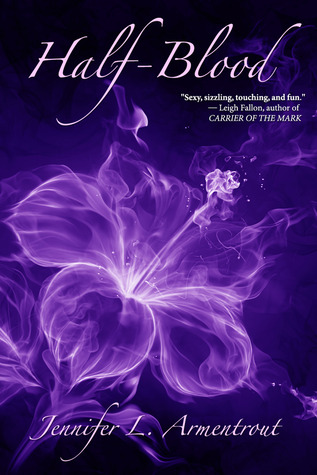 Half-Blood by Jennifer L. Armentrout
Series:

Covenant #1
Genres:

Young Adult, Paranormal, Mythology
Release Date:

October 18, 2011
Format:

Trade Paperback
Source:

Purchased
Synopsis

The Hematoi descend from the unions of gods and mortals, and the children of two Hematoi pure bloods have godlike powers. Children of Hematoi and mortals--well, not so much. Half-bloods only have two options: become trained Sentinels who hunt and kill daimons or become servants in the homes of the pures.

Seventeen-year-old Alexandria would rather risk her life fighting than waste it scrubbing toilets, but she may end up slumming it anyway. There are several rules that students at the Covenant must follow. Alex has problems with them all, but especially rule #1:Relationships between pures and halfs are forbidden. Unfortunately, she's crushing hard on the totally hot pure-blood Aiden. But falling for Aiden isn't her biggest problem--staying alive long enough to graduate the Covenant and become a Sentinel is.

If she fails in her duty, she faces a future worse than death or slavery: being turned into a daimon, and being hunted by Aiden. And that would kind of suck.
My Thoughts

Gods and mortals, pure-bloods and half-bloods, Hematoi and daimons... yep, I was ready to dive into another paranormal series from Jennifer L. Armentrout. I'm not sure how I even managed to not read this series before now. The Lux series remains my favorite paranormal series ever (hello Daemon Black), I loved the Dark Elements trilogy (hello Roth), and her new adult contemporaries are some of my favorites. So it was past time for me to jump into the Covenant series and the world of the Hematoi.

At 17, Alex and her mother have been on their own for 3 years. They left the only home Alex had ever known, the Covenant, and Alex has never understood why. When a horrific attack leaves Alex alone and on the run, she returns to the one place her mother fled from. Alex just wants to pick up where she left off and continue her training. All she's ever wanted is to become a Sentinel, one who hunts and kills the daimon enemies of the Hematoi. But as a half-blood her position is precarious and her options are limited. If she doesn't become a Sentinel she'll be forced into a life of servitude in the home of a pure-blood.

Sentinel Aiden is assigned to train Alex over the summer to get her up to speed with her classmates. That turns out to be tricky when Alex develops feelings for Aiden - and relationships between half-bloods and pures are strictly forbidden. Just when it seems like things can't get more complicated, there's a girl who hates her, a stepfather she doesn't trust, and a chilling prophecy.

There was so much to enjoy in Half-Blood: learning the mythology of a new world (the Covenant), trying to figure out everyone's ulterior motives, the slow-burn between Alex and Aiden, Alex's friendship with Caleb, and the fact that Alex is no shrinking violet. On the flipside, I did get frustrated with Alex at times. First, because her strength sometimes seemed to come at the cost of her showing any emotion at all. She mostly refused to open up to anyone and instead stoically carried on. It sometimes made her hard to relate to. And secondly, she made some seriously stupid decisions. Aiden referred to her as 'foolishly brave' and that pretty much summed her up. Alex was a fan of rules be damned, lack of training be damned, and even common sense be damned - just take action even when it was truly ill-advised. Sure it made me want to throttle her at times but it was also impressive because like I said - the girl is no shrinking violet who stands around waiting to be rescued.

I've seen plenty of people say this series (or at least this first book) has a lot of similarities to the Vampire Academy series. Since I've never read VA (despite the entire box set sitting on my bookshelf... but that's a story for another day), any similarities went right over my head. So no issues here. I don't think Half-Blood really grabbed me like most of JLA's other books have. I was hooked on the Lux series from page one of Obsidian. I was invested in the Dark Elements series from the very beginning of White Hot Kiss. Even though I thoroughly enjoyed it, I didn't feel that same connection to the story or the characters here - but I have no doubt that will change as I continue with the series. If anything, I have to find out what's going to happen with Alex, Aiden and Seth!