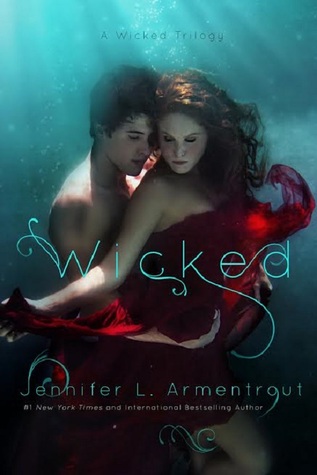 Wicked by Jennifer L. Armentrout
Series:

Wicked #1
Genres:

New Adult, Paranormal
Release Date:

December 8, 2014
Format:

Trade Paperback
Source:

Purchased
Synopsis
Things are about to get Wicked in New Orleans.

Twenty-two year old Ivy Morgan isn't your average college student. She, and others like her, know humans aren't the only thing trolling the French Quarter for fun… and for food. Her duty to the Order is her life. After all, four years ago, she lost everything at the hands of the creatures she'd sworn to hunt, tearing her world and her heart apart.

Ren Owens is the last person Ivy expected to enter her rigidly controlled life. He's six feet and three inches of temptation and swoon-inducing charm. With forest-green eyes and a smile that's surely left a stream of broken hearts in its wake, he has an uncanny, almost unnatural ability to make her yearn for everything he has to offer. But letting him in is as dangerous as hunting the cold-blooded killers stalking the streets. Losing the boy she loved once before had nearly destroyed her, but the sparking tension that grows between them becomes impossible for Ivy to deny. Deep down, she wants… she needs more than what her duty demands of her, what her past has shaped for her.

But as Ivy grows closer to Ren, she realizes she's not the only one carrying secrets that could shatter the frail bond between them. There's something he's not telling her, and one thing is for certain. She's no longer sure what is more dangerous to her—the ancient beings threatening to take over the town or the man demanding to lay claim to her heart and her soul.
My Thoughts



A badass redhead + smoking hot guy (with dimples) + snarky brownie + evil Fae bent on world domination = a really good time.

Ivy is a 22 year old college student and part of the Order - a secret organization that kills/banishes the Fae. She lives and works in New Orleans where there's no shortage of Fae. Enter Ren, aforementioned smoking hot guy, Order member who is new to New Orleans, and seems to be there for a specific purpose. When it seems that the Fae are preparing for something that could be catastrophic for all humankind, Ivy and Ren work together to find answers. And find each other in the process.

Wicked started slow for me. I don't know if that's because I was feeling book slump-ish or because of the story but it did take me some time to get into it. I also wish Ivy's background wasn't so slow to reveal. It was obvious there was a story there and it was hinted at so often that I was starting to think 'come on already!' And overall I just wasn't fully immersed in the plot. Again, that could have been me being book slump-ish or maybe this story of the Fae just wasn't my favorite.

That being said, Wicked was still plenty of fun. Ivy was a strong character with a sassy attitude. And I loved Ren's charm and openness with Ivy. He was so upfront with his feelings for her and I really liked that about him. But it was Tink who stole the show. That little brownie was total comic relief and had so many lines that made me laugh out loud. Armentrout does banter and snarky humor *so* well and it was in abundance here.

I was distrustful of a certain character from almost the very beginning and I was pleased to learn I had called it so early on. But the twist at the end...? Nope. Did *not* see that coming! I read the last page and sat there holding the book in utter disbelief - crushed by the turn things had just taken. I need the next book like yesterday and will be snagging it just as soon as it's released.

I am a huge fan of Jennifer Armentrout. Her Lux series is one of my favorite series ever and The Dark Elements series isn't far behind. While Wicked wasn't on that level for me and didn't hook me quite like the others, I still enjoyed it a lot and am definitely excited to see where the story goes from here!