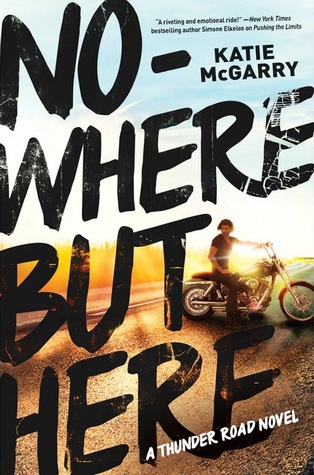 Nowhere But Here by Katie McGarry
Series:

Thunder Road #1
Genres:

Young Adult, Contemporary
Release Date:

December 1, 2015
Format:

Hardover
Source:

Purchased
Synopsis
Seventeen-year-old Emily likes her life the way it is: doting parents, good friends, good school in a safe neighborhood. Sure, she's curious about her biological father—the one who chose life in a motorcycle club, the Reign of Terror, over being a parent—but that doesn't mean she wants to be a part of his world. But when a reluctant visit turns to an extended summer vacation among relatives she never knew she had, one thing becomes clear: nothing is what it seems. Not the club, not her secret-keeping father and not Oz, a guy with suck-me-in blue eyes who can help her understand them both.

Oz wants one thing: to join the Reign of Terror. They're the good guys. They protect people. They're…family. And while Emily—the gorgeous and sheltered daughter of the club's most respected member—is in town, he's gonna prove it to her. So when her father asks him to keep her safe from a rival club with a score to settle, Oz knows it's his shot at his dream. What he doesn't count on is that Emily just might turn that dream upside down.

No one wants them to be together. But sometimes the right person is the one you least expect, and the road you fear the most is the one that leads you home.
My Thoughts
First things first: I adore Katie McGarry. I tend to love everything she writes and she is one of those oh so rare auto-buy authors for me. She manages to create characters who feel completely real, place them in often heartbreaking situations that never fail to make me care, and her story lines are written with such heart and emotion that I am always completely invested. As a fan of her Pushing the Limits series, I was really excited to delve into her new series and meet a whole new cast of characters.
Emily has lived a life sheltered from her biological father and his life in Kentucky. The man she calls Dad is the one who married her mom and adopted Emily when she was only 5 years old. She barely knows Eli, the father that visits once a year. Now, at 17, Emily finds herself in Kentucky surrounded by a side of her family she has never known and facing the prospect of spending her summer with these strangers. Her first instinct is to return to everything safe and familiar at home but the chance to finally get answers and learn about a past her mother won't talk about is too tempting to pass up.
Emily's new-found family in Kentucky goes beyond just blood relations. Eli's motorcycle club, Reign of Terror, is tighter than any family. But they also have enemies and Emily is in danger. Eli entrusts Oz to stay by Emily's side and keep her safe. At 18, Oz has been raised within the club and his only focus is to be made an official member of the brotherhood. Emily is a distraction and having to look after her is going to postpone his entrance to the club. But as the summer progresses, Emily is less of a nuisance and instead opens Oz's eyes to new possibilities.
"I will her to look away, but she doesn't and I'm secretly proud
the girl won't back down. I hate this connection. I crave this connection.
She's continually messing with my head."
I'm not sure I can really express my feelings for Nowhere But Here without going all gushy. I loved Emily's transformation from a skittish and anxious girl to a strong young woman willing to demand answers and even go against those she loved. I loved Oz and his fierce loyalty, his maturity, and his willingness to push boundaries when needed. I loved the progression of Oz and Emily's relationship - from wary strangers, to uneasy allies, to friendship and love.
"I like how you smile and how you laugh.
I like how you love and defend your family and I like how
you're trying to love mine. I love how you trust.
But mostly, Emily, I like how I feel when I'm around you."
Emily and Oz were very different people with vastly different backgrounds and there were many reasons why they should not be together. But as unlikely as it seemed, in each other they found common ground and someone who understood, who cared, who was willing to put everything on the line. The chemistry and the slow-burn romance was sheer perfection.
The side characters can hardly be considered secondary because they sprang to life, leapt off the page, and were as integral to the story as Emily and Oz. I felt for Eli from the very beginning, with his awkward attempts to get to know Emily - attempts that were often met with silence or one-word answers. And the more I learned about Eli the more my heart hurt for this man who was so determined to do right by the daughter he loved and cherished. Emily grandmother Olivia was a character that had me on the fence for a long time. Like Emily, I wasn't sure what to make of her and her coarse and sometimes abrasive nature but over time it was impossible to deny her deep and abiding love for her family, blood related or not. Other characters like Cyrus, Chevy, Violet and Razor were just as intriguing and important to the story.
Nowhere But Here is told in dual perspective and getting insight from both Emily and Oz as the story and their relationship progressed added so much. Despite the length of the novel (almost 500 pages in hardcover) the story was fast-paced and I finished it in just a few days. It helped that I was so hooked that I could hardly put it down. And when I did I was still thinking about Emily and Oz and what they were dealing with.
There's something special about Katie McGarry's writing. I've loved every book and Nowhere But Here is no exception. This story of family (in all its forms), sacrifice, trust, love and forgiveness captured my heart. And whether you've read McGarry's books before or not, I highly recommend picking this one up and experiencing it for yourself.