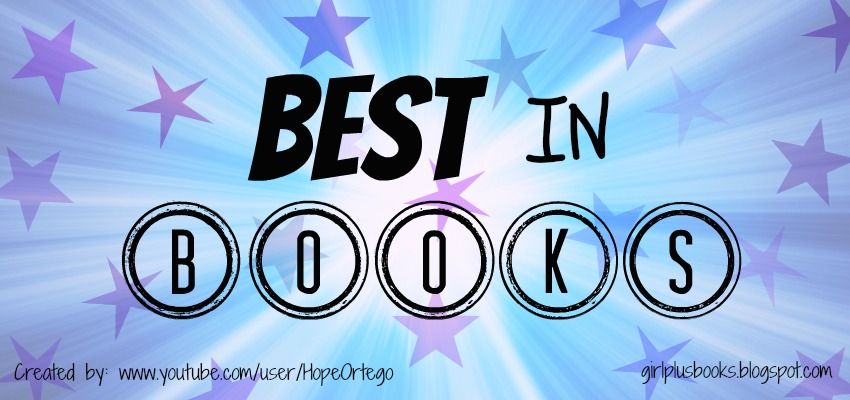 A playlist of her Best In Books videos can be found HERE.
_________________________________________________
My friend Hope does a fun monthly feature on her YouTube channel called Best In Books. It's a little different than the usual monthly wrap-up and I look forward to them every month. I asked for permission to use her feature on my blog and she was sweet enough to say yes! If you're not already following Hope on YouTube (or anywhere on social media!) you're missing out. Hope and I became friends last year and I am so glad to know her. She is an absolute ray of sunshine, so full of happiness and positivity - and who doesn't need more of that in their life? :)
Oh, and be prepared because I plan to gush about Some Kind of Perfect in this edition of Best in Books. Just be happy it doesn't appear in *every* category. :)

3-Way Tie: Lily, Daisy and Rose from Some Kind of Perfect
There's no way I can choose just one (and it's my Best in Books so I don't have to, so there). Each of these women have grown and changed so much over the years and their strength and devotion to family was on full display in Some Kind of Perfect.

Who didn't see that coming? These men have truly come into their own in Some Kind of Perfect. They overcome so much, both personally and as a group, and their relationships are stronger for it. And really, is there any better bromance than Connor and Lo?

I was fairly certain I would enjoy The Crown's Game. I have a love of Russian history and culture so a YA novel that features a magic competition and takes place in Imperial Russia? Yes, please! I loved the mix of actual history with fiction (Tsar Alexander being very real; his son Pasha, the crown prince, being a fictional creation). I loved the magic system and the way it was explained. I adored the main characters and was so invested in the story as it unfolded. And there were plot twists that I did *not* see coming. Plus, Steve West was a top notch narrator with both Russian and French accents that felt completely authentic. I'm already excited about the second book releasing next year.
Be With Me
I love the humor in Jennifer L. Armentrout's books and Be With Me was no exception. I'm sharing two and if you're bothered by profanity feel free to cruise on down to the next category. Otherwise, highlight the text below to see my picks for Best Laugh.
"Are you fucking serious?"
He blinked once and then narrowed his eyes. "You don't need to cuss."
"I'll fucking cuss if I want to fucking cuss," I snapped. "Fucker."
And...
Damn me straight to hell and back. I was never drinking again. Fuck
beer and the keg it rode in on.

The Proposal
This short story is *really* short (like just a few pages) but getting to witness Cam's proposal to Avery after reading Wait For You and Trust In Me was such a swoony moment. Cam was nervous, Avery cried, and Teresa and Jase were on hand (along with Cam's parents). It was just... perfect.

I have two and, YES, both are from Some Kind of Perfect
:
"The greatest medicine on Earth isn't a pill. It's compassion. The ability to make someone feel less alone."
"We speak of moving mountains, but sometimes people can completely rotate the world, just so someone else can land upright on their feet."

Some Kind of Perfect
Shocking, no? This one was a no-brainer. No other book I read in August could match this one. This book spans ten years in the lives of characters that I have loved for so long. This was the culmination of a series that means so much to me. Some Kind of Perfect followed the six main characters, using all six points of view, through good times and bad, through acceptance and forgiveness, through struggles and victories. And always with an amazing focus of family, loyalty, love and support. Some Kind of Perfect isn't just the best of August... it will be one of the best of the year.
______________________________________________________
Now it's your turn... what was your best book of the month in August?
Or the best surprise? Pick a category and tell me your answer below. :)