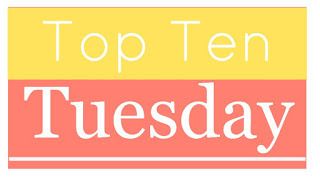 Top Ten Tuesday is an original feature/weekly meme
This week's Top Ten Tuesday theme is an All About Audio freebie - a.k.a. top ten audio books, 10 books you want to listen to on audio, top ten podcasts/albums/songs, you get the idea.
I'm going with 10 of my favorite songs of all time. Not necessarily the Top Ten because, seriously, how impossible would that be to narrow down? It's not particularly bookish, but who says we can't branch out a little and share more than just our love of books? I'm already laughing because I'm totally going to be showing my age with some of these but what can I say... I was in junior high and high school in the 80's and some of my favorite music is still from that time. So here we go...
This is a remake but it's the version I love. This is one of those songs that can almost always get me pumped and in a good mood.
Just such a beautiful song. I never get tired of listening to it.
Love her voice, love the lyrics, love it all.
This song. I adore it. Alison Moyet's voice is perfection.
This one hits me in the heart Every. Single. Time.
The studio version of Laid is good but it's the live version that can take me from "oh, I'm having an average day" straight to "utter joy!" in two and a half minutes. :)
This is a newer favorite and one that I fell in love with as soon as I heard it.
I've never been way into Peter Pan but for some reason all the references here just send me over the moon.
Maybe Someday was the first book I ever read by Colleen Hoover and is so special to me. After finishing it, I immediately downloaded Griffin's music that was used in the book. While I enjoy all the songs, it's this one that I *still* have on repeat. It's a fabulous song on its own, but having the context from the book makes it that much more moving. (And the line "For her I bend, for you I break" kills me every time.)
Back in the 80's Duran Duran was my favorite band. I was waaay into them and their music (concerts, posters on the wall, the whole bit). This song isn't even theirs; it's a cover of a song that was originally released in the mid-70's. But Duran Duran's version hits me right in the feels.
I don't know what it is about this song... but I LOVE IT. :)
I'm wondering how many people can say they've had the same favorite song for 35 years or so? :) If I *had* to pick one favorite above all the rest, this is The One. I remember when this first came out in 1979-80 and I loved it from the first time I heard it. I can't name a single other song by Forbert (he was something of a one hit wonder) but this one is incredibly special to me. So much so that a few years ago for Christmas my husband printed the song lyrics and framed them and it's still one of the best gifts I've ever received. ♥
So what's your favorite song? Can you narrow it down to just one? Tell me your top two or three so maybe I can discover some new favorites!