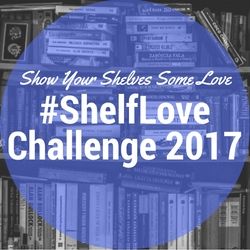 For the second year in a row, I'm taking part in the #ShelfLove Challenge.
The focus is on reading the books you already own - and I'm all about that!
The discussion topic for this quarter:
What are the top books (unread) on your shelf
that have been there the longest?
Don't you just cringe reading that? Being forced to think about some of the books that have been lingering on your bookshelves for ages. Are we all hanging our heads in shame? Well it's time to 'fess up and share those books that are unread (but not unloved!) and just patiently waiting for their turn.
Note: These are all books that are physically on my shelves, not just on my TBR. All dates gathered from when I added the book to my GoodReads To-Read shelf.
ON MY SHELF SINCE 2014
ON MY SHELF SINCE 2013
ON MY SHELF SINCE 2012
ON MY SHELF SINCE 2011
ON MY SHELF SINCE 2010