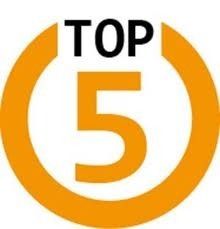 Click HERE for a complete list of participants and future topics.
I was so excited when I saw that this week's T5W theme was favorite angsty romances. Because I am ALL ABOUT the angsty romance. Bring. It. On. I think for some people, angst has a kind of negative connotation but not so for me. Give me a book where the main characters are tortured souls with tragic backgrounds. Give me a story where there's every obstacle imaginable keeping the lovers apart. Give me heartbreak and heartache. Does that make me a glutton for punishment? Maybe, but I'm also one happy reader. So here are some of my favorite angtsy romances/couples.
THE BRONZE HORSEMAN
Paullina Simons
The Bronze Horseman takes the gold medal in angst. I mean, come on, when the story starts Alexander is dating Tatiana's sister. How's that for some angst? Then there's that pesky war keeping them apart. Much angst ensues.
MAYBE SOMEDAY
Colleen Hoover
When I started this list, four of the five picks were from Colleen Hoover. I practically had to flip a coin to choose just one. I ended up going with the first CoHo book I ever read. The angst-filled relationship between Sydney and Ridge in Maybe Someday had me in pieces, desperate for some kind of happy ending. Many tears were shed.
ADDICTED TO YOU
Krista & Becca Ritchie
I don't consider the Addicted series as a whole to be particularly angsty. But that first book, when Lily and Lo were deep into their addictions and struggling daily - yeah, that was pretty angsty. They were each other's crutch but also one another's salvation. The ending of this one tore me up.
FALL TOO FAR
Abbi Glines
I'm a sucker for the Rosemary Beach series. Seriously, it's my book crack. And it all started with Blaire and Rush. He's the son of the woman her father has just married. She's a simple girl from Alabama. He's a rock star's son. Angst and drama, drama and angst. I ate it up like candy.
WAIT FOR YOU
Jennifer L. Armentrout
Cam and Avery's relationship was a rocky one with plenty of obstacles. Cam's past, Avery's past, misunderstandings. Their road to happiness was hard fought and no two people deserved it more. I loved this angsty love story.
How do you feel about angsty romance?
Love it or hate it?