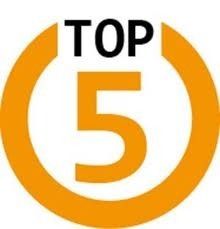 Click HERE for a complete list of participants and future topics.
This week's Top 5 Wednesday theme is about all time favorite science fiction and fantasy books. Since I never read sci-fi (I can't think of any that I would consider sci-fi, anyway) and I very rarely reach for fantasy, this is going to be tough. I'm going to be a little lax when it comes to the definition of fantasy because I'm throwing in some paranormal as well. Because I'm a rebel like that.
A COURT OF MIST AND FURY
(A Court of Thorns and Roses series)
Sarah J. Maas
Just as ACOTAR was a favorite in 2015, ACOMAF was a stand-out in 2016. For someone who isn't typically drawn to fantasy, I am 100% hooked on these characters and this world.
CITY OF HEAVENLY FIRE
(The Mortal Instruments series)
Cassandra Clare
I clearly remember the first time I saw City of Bones in a bookstore. I was intrigued by the cover, and the synopsis was so different from what I usually read. Over the next several years I gobbled up each new release and was so invested in how it would all play out in the final book.
THE CROWN'S GAME
(The Crown's Game series)
Evelyn Skye
Discovering this book last year was super exciting. A historical Russian setting mixed with magic? I was so on board for that. It was just as good as I had hoped.
OBSIDIAN
(The Lux series)
Jennifer L. Armentrout
Is anyone surprised at me throwing in the Lux series any chance I get? I've always considered this a paranormal series but it's aliens so... that's sci-fi, right? No matter what you call it, it's one of my favorite series ever and one of the few that I've ever re-read. Love the story, love the characters, love the dialogue. I never get tired of this one.
WHITE HOT KISS
(The Dark Elements trilogy)
Jennifer L. Armentrout
This is another that I've always considered paranormal but with gargoyles and demons... sounds fantastical to me. Sure, this one is heavy on the romance (probably why I like it so much) but there's so much more. Including an irresistible Crown Prince of Hell with protectors/tattoos that he names after Disney characters. Gotta love that.
Have you read any of these?
What's your favorite sci-fi/fantasy book?