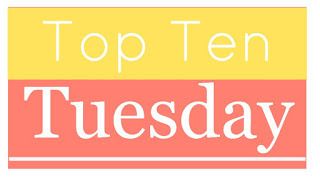 Top Ten Tuesday is an original feature/weekly meme
I was super excited for this week's Top Ten Tuesday topic but I was swamped all day and just didn't have the time to post. So, even though it's Thursday, and even though I'm two days late, I'm playing anyway. :)
I love having the opportunity to meet favorite authors. I mean, authors are my rock stars. So, being able to meet them, to have a few minutes of one on one conversation (about books or about anything at all), is pretty awesome and never gets old. Disclaimer: I'm not playing by the rules (again) this week. I couldn't narrow it down to 10 so I quit trying.
Corinne Michaels | Harper Sloan | Alessandra Torre | T.M. Frazier
I met all of these lovely ladies at Sassy in Savannah in 2015. I actually went with the express purpose of seeing only two authors (Krista and Becca Ritchie) but because so many others would be in attendance I took advantage of the opportunity to get lots of books signed and meet many authors who were so kind and so friendly. (Not pictured but also met at that event: Natasha Boyd, Aurora Rose Reynolds, Leddy Harper, Seth King, and Aly Martinez.)
Lauren Oliver | Gayle Forman
YallFest (2014) was the first *big* author event I went to and is still one of my favorites. There were a few signings happening the day before the real deal and that's when I was able to meet both Lauren Oliver and Gayle Forman. Gayle was so friendly and when I told her that my husband had also read If I Stay, she signed the book to both of us. :)
Diana Gabaldon | Tracey Garvis Graves
I can't be sure, but Diana Gabaldon might have been the first author I ever met. This was waaay back in 2001 or 2002 when she was touring to promote The Fiery Cross. I was still fairly obsessed with the series at that point so meeting her was pretty epic. Tracey Garvis Graves is still one of my favorite author meetings. She was having a signing at a small local independent bookstore (in 2013, I think) and my sister and I went together. The turnout wasn't huge so it was almost like hanging out with a friend. :) Tracey talked, answered questions, signed books... it was just such a fun, relaxed event. And what's most impressive, to this day she still remembers me, asks about my sister and we've actually talked/joked about meeting up for wine and dessert the next time she's in town.
K.A. Tucker | Cora Carmack | Rebecca Donovan | Molly McAdams
ApollyCon 2016 was an amazing event! So. Many. Authors. It was a book lover's dream. I loved getting to meet K.A. Tucker. I had the review I'd posted as part of the blog tour for He Will Be My Ruin and asked her to sign it. She took a look at it, said she remembered it and was able to quote part of it back to me. Um, wow. Cora Carmack... what an awesome person! I just adored her sparkling personality. She's the kind of person you just know you could be best friends with. :) Rebecca Donovan was sweet and kind and, it must be said, absolutely stunning in person! Molly McAdams was so great to talk to. I had just recently taken part in the blog tour for To the Stars and she was sweet enough to sign my review. And, as with K.A. Tucker, with a glance she remembered reading it and was able to talk about points I'd mentioned in the review. I was so taken aback (and excited!) by that.
Sarah J. Maas | Abbi Glines | Katie McGarry
Confession time: At the time I met SJM, I wasn't even really a fan. I had *just* started Throne of Glass (actually, my bookmark was in the book she signed and I told her not to lose my place LOL) so I wasn't even halfway through my first book by her. But I was like, oh cool, I'm reading her book and she's here, I'll get it signed. Little did I know what was to come a couple years later (hello ACOTAR and ACOMAF!). I've mentioned before that the Rosemary Beach series by Abbi Glines is my book crack. I inhale those books. And when I learned that she was attending a book event close by I couldn't miss it. I had something of a fangirl moment when she came and sat down next to me while waiting for the conference room she was using to open and we chatted until she went in to set up. Definitely an author meeting highlight! :) When it comes to YA contemporary, Katie McGarry is my #1. So I was thrilled to meet her at ApollyCon last year. She is so incredibly down to earth, so genuine and I felt like I could have pulled up a chair and talked to her all day. I would truly love to meet Katie again.
Krista & Becca Ritchie
I've had the pleasure of meeting these amazing, talented, funny, gifted young women twice now and I just adore them. They write my favorite NA contemporary series (you might have seen me mention the Addicted series a time or fifty?) and having the chance to spend some time with them is such a blast. I first met them in Savannah in 2015 and met them again last year when they were at an event right here in my city. Both times they met up with a few readers for dinner after the event and it was amazing to just sit back and chat about anything and everything (book related or not). I should also mention that their mom happened to be at both events and Gina is an incredible lady who is so supportive of their career.
Jennifer L. Armentrout
My love for Jennifer Armentrout has no end. I adore her and her incredible story telling. I mean, the woman created Daemon Black. LOL She has given me sooo many hours of entertainment and escape and enjoyment. Her books are so addictive and she is one of my *very few* auto-buy authors. She's also funny and friendly and so genuine. Each time I've met her she's taken the time for a bit of personal conversation, making a quick connection, and I love that about her.
Now on to The One I Want to Meet...
I've been lucky to meet all of my favorite authors... except one. Colleen Hoover. It's just never worked out. But one day it will happen. I'm coming for you, Colleen! :)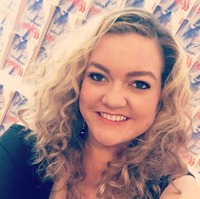 Have you met your favorite author?