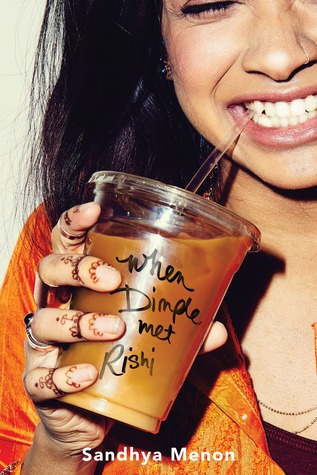 When Dimple Met Rishi by Sandhya Menon
Series:

No
Genres:

Young Adult, Contemporary
Release Date:

May 30, 2017
Format:

Hardcover
Source:

Library loan
The rom-com that everyone's talking about! Eleanor & Park meets Bollywood in this hilarious and heartfelt novel about two Indian-American teens whose parents conspire to arrange their marriage.

Dimple Shah has it all figured out. With graduation behind her, she's more than ready for a break from her family, from Mamma's inexplicable obsession with her finding the "Ideal Indian Husband." Ugh. Dimple knows they must respect her principles on some level, though. If they truly believed she needed a husband right now, they wouldn't have paid for her to attend a summer program for aspiring web developers…right?

Rishi Patel is a hopeless romantic. So when his parents tell him that his future wife will be attending the same summer program as him—wherein he'll have to woo her—he's totally on board. Because as silly as it sounds to most people in his life, Rishi wants to be arranged, believes in the power of tradition, stability, and being a part of something much bigger than himself.

The Shahs and Patels didn't mean to start turning the wheels on this "suggested arrangement" so early in their children's lives, but when they noticed them both gravitate toward the same summer program, they figured, Why not?

Dimple and Rishi may think they have each other figured out. But when opposites clash, love works hard to prove itself in the most unexpected ways.

When I picked up When Dimple Met Rishi the hype was kind of insane. It seemed to be the current "IT BOOK" that everyone was reading and loving. And hyping. So color me a little hesitant going in to this one. And the verdict is: I get it. I so get it. 😊
Dimple chafes at her parent's expectations and is determined to buck tradition and live life on her own terms. She's not interested in fashion or makeup or finding the Ideal Indian Husband. Instead, she's focused on her passion for web development, going to Stanford, and having a successful career in a field dominated by men. Attending InsomniaCon is a dream come true - until she learns that her parents have been matchmaking and her intended is now her partner for the summer.
Of course. Dimple should have guessed.
It was the I.I.H. [Ideal Indian Husband] nonsense again.
She suspected the entire community of aunties was in on
it. It was like some bizarre version of a geocaching club;
the
minute somebody's daughter turned eighteen, all the
aunties began to scheme the shortest route from her
parents' home to the ultimate prize
-
her sasural
.
Rishi embraces his parent's traditional ways and takes the responsibility of being the oldest son seriously. He sees practicality and stability in arranged marriages and takes pride in upholding the cultural tradition and honoring his parent's wishes. And he doesn't quite know what to make of the outspoken girl who throws her iced coffee on him at their first meeting.
"Hello, future wife," he said, his voice bubbling
with glee.
"I can't wait to get started on the rest
of our lives!"
It was so refreshing to read about a female YA character that wasn't wallowing in unrequited love or crippled by insecurity. Dimple was a girl who knew what she wanted and was usually fearless about going after it. And Rishi - could he be any more precious?! Sweet, kind, thoughtful and, despite his own self-assessment, quite romantic. I absolutely adored Rishi.♥
He wondered if he should feel a stab of
jealousy -
Dimple bonding so well with his
muscled, much-cooler younger
brother -
but
all he felt was this warm, almost
gooey
feeling
in his
chest. Like his heart was wrapped
in
microwaved Nutella.
I loved the easy flow of the story, the inclusion of Dimple and Rishi's culture, their familial relationships, and the evolution of their relationship. I thought Menon did an excellent job of allowing each of them to show real growth. They both questioned their beliefs and their goals and came to understand it didn't have to be all or nothing. They truly brought out the best in each other.
She'd been so sure that Rishi and she would
have
absolutely
nothing to do with each other.
But that was
Rishi...
he was like a pop song you
thought you
couldn't stand,
but found yourself
humming in the
shower anyway.
I was completely charmed by these characters in all their funny, awkward, sweet, and totally adorkable glory. Sure, there was an element of predictability but who cares? It was worth it to get to experience the heartwarming goodness that is When Dimple Met Rishi.