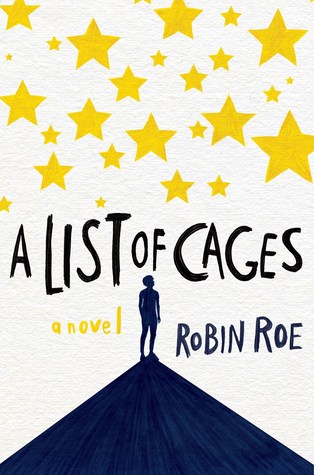 A List of Cages by Robin Roe
Synopsis:

When Adam Blake lands the best elective ever in his senior year, serving as an aide to the school psychologist, he thinks he's got it made. Sure, it means a lot of sitting around, which isn't easy for a guy with ADHD, but he can't complain, since he gets to spend the period texting all his friends. Then the doctor asks him to track down the troubled freshman who keeps dodging her, and Adam discovers that the boy is Julian - the foster brother he hasn't seen in five years.

Adam is ecstatic to be reunited. At first, Julian seems like the boy he once knew. He's still kindhearted. He still writes stories and loves picture books meant for little kids. But as they spend more time together, Adam realizes that Julian is keeping secrets, like where he hides during the middle of the day, and what's really going on inside his house. Adam is determined to help him, but his involvement could cost both boys their lives.



MY THOUGHTS:
I assumed A List of Cages would be an emotional read but it was so much more than I anticipated. The bond of Adam and Julian's friendship was portrayed so beautifully and, set against the backdrop of such heartbreaking cruelty, made for a story that was utterly gripping.
Adam is elated when he recognizes Julian at school, the younger boy being the foster brother that he and his mother cared for and loved before an uncle stepped forward and took him away. It doesn't take long Adam to recognize that Julian's secretive nature and skittishness is hiding something important. Adam took Julian under his wing, introduced him to his friends, included him on outings, and encouraged Julian in every way he could. He provided a measure of happiness and normalcy where otherwise there was none.
Julian was quiet and shy and still drowning in grief and loss that he hadn't had the chance to properly process. He was such a precious, gentle boy and I wanted to whisk him away and protect him. The descriptions of his home life became increasingly hard to take in and as the story progressed my outrage and hurt turned to dread and fear for this sweet boy who desperately needed someone to take notice.
A List of Cages is told in dual POV and both Adam and Julian voices were distinctive and told their story in a powerful way. Roe didn't hold back when it came to shining a light on Julian's situation and seeing it through his own young eyes made it even more heartbreaking. This story about the power of friendship, about loss and grief and abuse, about hope and compassion, was truly moving and one I won't soon forget.
4.5/5 STARS
Up in Flames (Rosemary Beach #13) by Abbi Glines
Synopsis:

Spoiled. Selfish. Rich girl. Villain. Slut.

As the Prada-clad bad girl of Rosemary Beach, Nan Dillon has been called every vile name under the hot summer sun. Some of her reputation is deserved - she's never had to worry about anything but maintaining her perfect figure and splitting Daddy's private jet with her brother.

But Nan is far from happy. So when Major asks her out she jumps at the chance to date the gorgeous charmer. For a while Nan deals with Major's playboy ways, but after he burns her one too many times, she takes off for an impromptu weekend in Vegas. There she meets Gannon, a darkly seductive and oh-so-dangerous businessman who knows exactly how to handle her. But what Nan doesn't know is that these players are involved in a much bigger game - and they're already two moves ahead of her.



MY THOUGHTS:
I started reading the Rosemary Beach series three years ago and I was hooked from the very first book. I've often referred to this series as my book crack - I simply cannot get enough. I followed these characters and their story lines over the span of a dozen books. Some characters and plots I liked more than others but there was never a book that I didn't completely enjoy start to finish. And then I heard that Abbi was ending the series with a book about Nan, the one who has caused the most trouble, been the most vindictive and generally been a character I've despised for her hateful nature. When I saw Abbi Glines at ApollyCon last year she assured me that I would change my mind about Nan and I would love her. Well, news flash, Abbi: didn't happen.
If this book was meant to make me do a 180 and all of sudden empathize with poor, misunderstood Nan, it failed miserably. There have been characters throughout this series who have overcome horrific circumstances and and yet kept their kindness and compassion. Nan had the cushiest life imaginable but because Life dealt her two lousy parents she became hateful, cruel and vindictive. I was perfectly happy hating Nan. She was the character I loved to hate - and I didn't need or want a book where she was (supposedly) redeemed.
It didn't help that the plot was so ludicrous, so utterly ridiculous that it strained all believability and made me wonder if Abbi takes her readers for absolute idiots. This was like a bad soap opera plot with no substance. Major was a jerk who treated Nan poorly and bungled everything he tried to do. Gannon was a caricature of a ruthless assassin (hello, soap opera plot). And Nan's every thought and action was completely unbelievable. (The true jump the shark moment? The times when Gannon broke into Nan's home, had rough sex with her while she slept, and in the morning she thought it was all a dream. I kid you not.)
I'm giving this mess 1 star because at least there were a few scenes with Rush and Blaire, the couple that started it all. Up In Flames lacked any substance and I'm so disappointed to see this series go out with a whimper instead of a bang.
Have you ever loved a series but been completely disappointed in the final book?