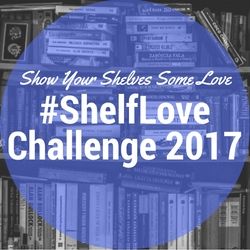 For the second year in a row, I'm taking part in the #ShelfLove Challenge.
The focus is on reading the books you already own - and I'm all about that!
The discussion topic for the mid-year check-in:
How are you doing with the challenge?
Look back at your January post and share your progress.
I started off the year strong - purposely choosing books that were already on my shelves (or my Kindle). But, somewhere along the way, I became distracted by all the shiny new releases and a few arc's and, well... it's time to get back on track. The goal I set at the beginning of the year was to read between 31-40 books this year that I already owned (before the start of the year). With the year almost half over, I feel like I should be a little further along in this goal. Sooo, time to get focused and get back to reading all the awesome books already on my shelves!