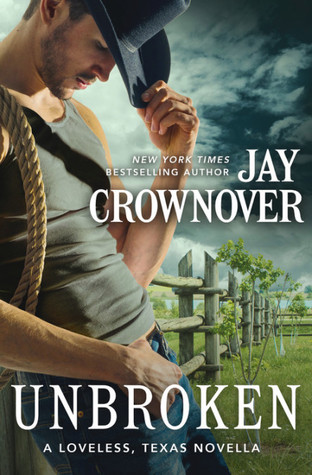 UNBROKEN
Jay Crownover
Publication date: May 14, 2019
Series: Loveless, Texas #0.5
Genres: Adult, Contemporary Romance
Format: eARC
Source: Forever Yours & Netgalley
GOODREADS * AMAZON
When rodeo star Crew Lawton loses everything in a bad bet, he has no choice but to take a new job to pay off his debts – even if it means becoming the face of an expensive male skincare line. Crew is used to getting sweaty and rustling in the dirt, not posing for photo shoots. And he's certainly not used to being bossed around by a woman who doesn't even know the difference between bulls and broncs. But Crew owes money to dangerous criminals, and he'll do anything Della says in order to pay them back and keep them far away from his family in Loveless, Texas…

The launch of her new men's line for her family's company means everything to Della Deveaux, and she's not willing to let some rugged, arrogant cowboy ruin her campaign. Crew Lawton is the last man she would have chosen to represent her chic, sophisticated brand. Unfortunately, her father already invested millions in Crew's stupidly handsome face. Yet the more time they spend together, Della and Crew realize that opposites doattract. But when the time comes for Crew to face his past mistakes, will he be able to protect his family…and the woman he's come to love?


M Y T H O U G H T S
Jay Crownover has kicked off her new Loveless, Texas series with an opposites attract tale that checks all the right boxes. A gambling problem has sent rodeo star Crew Lawton toppling from the top of his field. He reluctantly accepts a modeling gig, the face of a new high-end men's line, as a means to an end. He'll do anything to pay off his debts and be free of the bookie who is now threatening his family. Della didn't want Crew for her ad campaign but once he's dropped in her lap she can't deny his good looks and charisma. It was great fun to watch as these two lowered their walls, dropped their prejudices, and found a connection they'd never experienced before. These total opposites brought out the best in one another. While I found the plot line with Della's father a bit much to be believed, I was willing to roll with it because everything else was so on-point. With a sexy cowboy, a good girl ready to get a little bad, some sexytimes and a little danger thrown in, Unbroken is a great start to a new series and has me ready for more.
4/5 STARS
Publication date: December 31, 2013
Series: Tangled #1
Genres: Adult, Contemporary Romance
Drew Evans makes multimillion-dollar business deals and seduces New York's most beautiful women with just a smile. So why has he been shuttered in his apartment for seven days, miserable and depressed? He'll tell you he has the flu, but we all know that's not really true.

When Katherine Brooks is hired as the new associate at Drew's father's investment banking firm, every aspect of the dashing playboy's life is thrown into a tailspin. The professional competition she brings is unnerving, his attraction to her is distracting, his failure to entice her into his bed is exasperating.

How can one woman turn a smooth-talking player into a broken, desperate man? By making the one thing he never wanted in life the only thing he can't live without.
M Y T H O U G H T S
I adored Emma Chase's Royally series and was excited to read more. Tangled looked like the kind of rom-com that that would deliver all the feels. And while it was overall enjoyable there was also an aspect that left me wanting more. Drew is a total workaholic/manwhore and kind of a jerk, too. But he's also pretty self-aware and didn't try to pretend that he was Mr. Nice Guy. He meets his match in Kate – a new colleague who, according to his rules, is off-limits since they work together. A forced collaboration on a project has them spending time together and Drew discovers that he actually (gasp!) respects Kate. After that it's the usual guy realizes he actually has feelings for the girl, guy screws up big time, girl books it, and guy tries to win girl back. My main issue is that I wasn't totally convinced of Drew's feelings and it sometimes felt he was just focused on winning. On the plus side, I liked that the story was totally from Drew's POV (refreshing!), loved his relationship with his niece (and the swear jar he constantly donated to), and the humor than ran throughout the book.
3.5/5 STARS
HAVE YOU READ EITHER OF THESE BOOKS?