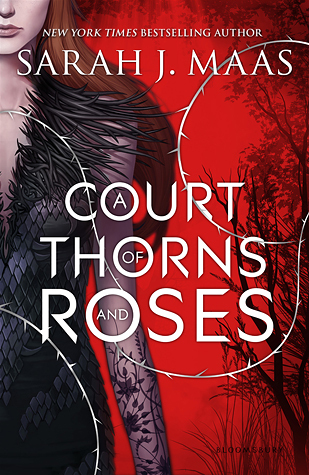 Title: A Court of Thorns and Roses by Sarah J. Maas
Genres: New Adult, Fantasy, Fairy Tale Retelling
Release Date: May 5, 2015 by Bloomsbury USA
Format: Kindle version
Source: Library loan
Find it here: GoodReads | Amazon



When nineteen-year-old huntress Feyre kills a wolf in the woods, a beast-like creature arrives to demand retribution for it. Dragged to a treacherous magical land she only knows about from legends, Feyre discovers that her captor is not an animal, but Tamlin—one of the lethal, immortal faeries who once ruled their world.

As she dwells on his estate, her feelings for Tamlin transform from icy hostility into a fiery passion that burns through every lie and warning she's been told about the beautiful, dangerous world of the Fae. But an ancient, wicked shadow grows over the faerie lands, and Feyre must find a way to stop it . . . or doom Tamlin—and his world—forever.

Perfect for fans of Kristin Cashore and George R. R. Martin, this first book in a sexy and action-packed new series is impossible to put down.
My Thoughts



I'm not sure which is greater: my enjoyment of this book or my total surprise at my enjoyment of this book. I'll put it right out there - I am not a fantasy reader. The few that I've read I have struggled with and I haven't been particularly blown away by them. It's just not my genre. That even goes for Maas' Throne of Glass. I feel very much in the minority when I admit that I liked it but didn't love it (and I've yet to continue on with the series). But it was impossible to ignore the hype and the rave reviews surrounding A Court of Thorns and Roses. And the synopsis grabbed me right away - a Beauty and the Beast retelling with Faerie lore? I decided to take a chance. And I'm so glad I did!
I've read some reviews stating ACoTaR had a slow start but I didn't find that at all. I was pulled into the story right away and instantly wanted to know more about Feyre, more about the world she lived in, and about the world she soon found herself in. Feyre was an amazing character, full of contradictions. For a young woman with such backbone and spirit, she was sorely taken advantage of by her family. She obviously had the internal fortitude to live with the burden placed upon her by her dying mother, but Feyre's true sass and strength didn't really become apparent until she was taken forcibly to the faerie realm.
"Be glad of your human heart, Feyre. Pity those who don't feel anything at all."
Feyre was such a richly drawn, fully realized character and I loved that! She was intelligent but not without faults. She was brave but not without fear. She used her wits and constantly sought ways to escape, to learn more, to understand her situation, to protect her family. She was stubborn but also willing to let down her guard at times and to show compassion and incredible loyalty. She made foolish decisions at times and I would find myself ranting out loud at her but it made for a more realistic story. I can't relate to a character who never makes mistakes and always, always takes the intelligent, well-thought-out choice. Watching Feyre adapt as her situation changed again and again was fascinating and the strength and vulnerability she showed in the later part of the book had me utterly enthralled.
"Some would say it's unwise to insult a Fae in his home," Tamlin ground out. "Some would say you should be grateful for me finding you before another one of my kind came to claim the debt, for sparing your life and then offering you the chance to live in comfort."
Tamlin, the "beast" in this retelling, was definitely worthy of hero/book boyfriend status. Truly a case of there being more than meets the eye. Despite his initial gruffness, there are glimpses of kindness and compassion (while still being completely badass). And as Tamlin reveals more of himself it's obvious that he, too, carries a great burden and, like Feyre, understands the feeling of being responsible for others even against almost impossible odds. I loved watching as Tamlin progressed from socially awkward to protective and charming and downright swoon worthy.
"Because your human joy fascinates me—the way you experience things, in your life span, so wildly and deeply and all at once, is … entrancing. I'm drawn to it, even when I know I shouldn't be, even when I try not to be."
Maas cut no corners when it came to secondary characters. In fact, several jumped from the page and felt every bit as fleshed out as our two leads. Particularly Lucien and Rhysand. Loved these characters! I won't say much for fear of spoilers but I'll just say that I loved the wit, the snark and the darkness and I can only hope for more (much more!) of them both.

As for the plot and the world building, I was captivated by both. As I said, I'm not a fantasy reader - it's just not my genre - but Maas managed to do what I thought was impossible: draw me into a fantasy world, make me see it and experience it, and connect with the story in a way that had me fascinated and full-on grabby hands for the next book. (Which isn't until next May? Say it isn't so!)
But I lived in that moment - my life became beautiful again for those few seconds when our hands grazed.
A Court of Thorns and Roses reeled me in from the very beginning and kept me turning the pages through every twist and turn. I was completely invested in both main characters and, I'll admit it, by the end I was getting pretty emotional over the impossible choices they were faced with. ACoTaR was epically entertaining and, I can't believe I'm saying it, but for the first time ever a fantasy book just may be included in my yearly favorites. It's just THAT GOOD.