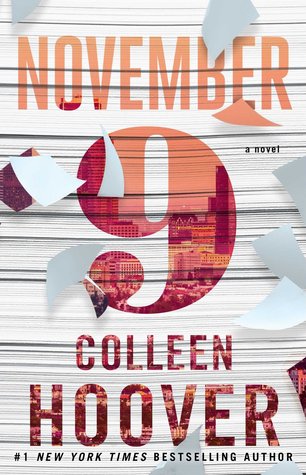 Title: November 9 by Colleen Hoover

Series: No

Genres: New Adult, Contemporary Romance

Release Date: November 10, 2015 by Atria Books

Format: Trade Paperback

Source: Purchased

Beloved #1 New York Times bestselling author Colleen Hoover returns with an unforgettable love story between a writer and his unexpected muse.

Fallon meets Ben, an aspiring novelist, the day of her scheduled cross-country move. Their untimely attraction leads them to spend Fallon's last day in L.A. together, and her eventful life becomes the creative inspiration Ben has always sought for his novel. Over time and amidst the various relationships and tribulations of their own separate lives, they continue to meet on the same date every year. Until one day Fallon becomes unsure if Ben has been telling her the truth or fabricating a perfect reality for the sake of the ultimate plot twist.
My Thoughts



Everything relates.
Everything is connected.
And it all begins on November 9th.

November 9 gave me emotional whiplash. Moments of reading with a huge grin on my face quickly turned to heartache which turned to tearful despair which became hopeful yearning. And no one, absolutely no one, can do that to me except Colleen Hoover.
"I didn't think you needed rescuing. I just sometimes find it difficult to control my indignation in the presence of absurdity." - Ben



In November 9, Colleen gifts us with the heartbreakingly beautiful story of Fallon and Ben. Two people who manage to find in each other exactly what they need: hope, purpose, love and redemption.
If she's not careful, I might just fall in love with her.



Tonight.
I'm hesitant to say much about the plot because I don't want to spoil a single moment of this gem of a story for anyone. But at its core is the story of Ben and Fallon, who meet on Fallon's last day in L.A. before she moves to New York. The hours they spend together make an impact that neither of them can ignore, and they agree to meet on the same day every year for the next five years. And so begins their story. We see Fallon and Ben every year: we watch as they reconnect, we watch as their lives change, we watch as they fall in love, and we watch as the Fates are equally kind and cruel.
I think she expected me to let her go without a fight, but she's not the kind of girl you choose your battles for. She's the kind of girl you fight to the death for.

Fallon and Ben are totally endearing and completely relatable characters. Fallon's back story is shared from the very start and it was impossible not to feel for this girl and what she had been through. Fallon had backbone but felt enslaved by her physical appearance. Her growth as the story progressed - still vulnerable, but stronger and more confident - made me want to cheer for her. Ben, as charming and funny and romantic and attentive as he was, remained something of an enigma. His past was not revealed until much later in the story and it made that much more of an impact. Ben's determination to make Fallon feel worthy, to help her regain her confidence, made me love him even more. He saw the beauty in her scars because they meant she was alive.

I stayed up late to finish November 9 (something I never do) and, after turning that final page, my first thought was: I want to read it again (something I rarely do). If you're a fan of Colleen Hoover, then you already know. You know that each book she writes is unique, each character is real, every line of dialogue makes an impact, and every story makes you FEEL. November 9 has it all - all of Colleen's signature humor and depth and emotion - and I will revisit Fallon and Ben and their unconventional love story again and again.
She "loved me" in quotations

She kissed me in bold

I TRIED TO KEEP HER in all caps

She left with an ellipsis...