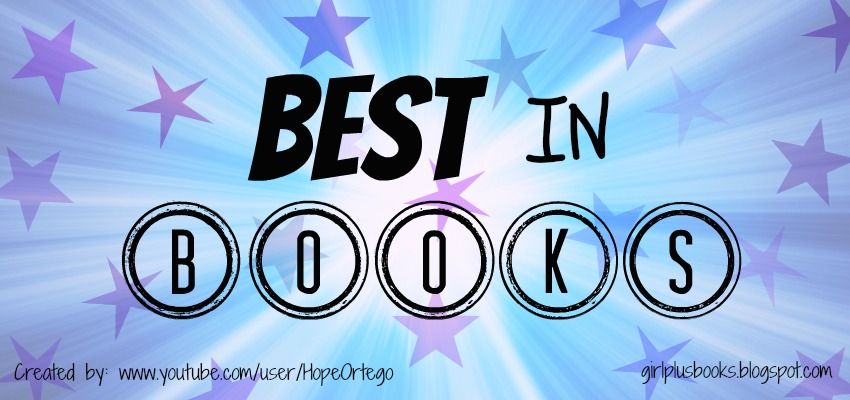 A playlist of her Best In Books videos can be found HERE.
_________________________________________________
Welcome to my Best in Books for January! Best in Books was created by my friend Hope and she was kind enough to let me join in on her feature (because she's awesome that way). Her BookTube channel is linked above and I hope you'll check her out. Now on to all the best bookishness in January...

Violet was a character that grew on me more and more as the book progressed. She was a young woman not afraid to speak her mind or do what she felt needed to be done. She found herself in such a difficult position, forced to make impossible decisions - choosing between the safety of her family or the betrayal of those who she once considered family. Her strength, her loyalty, her courage, and her absolute refusal to be pushed aside or ignored because of her gender, made Violet my favorite female character.

If you've read All the Ugly and Wonderful Things, Kellen may seem like an odd choice for my favorite male character. He's not the typical male main character. He's not a hero - not in the usual sense. Kellen is involved in a drug ring. He's served time. He can be violent. But he is also the only person who truly saw Wavy for who she was. Who accepted her, cared for her, loved her. From the outside Kellen may not have seemed like a complex character, but there was so much more to him than met the eye.
Stuck-Up Suit by Vi Keeland and Penelope Ward
Despite The was my first book from Keelend and Ward and it was a lot of fun. Super sexy, a tad angsty, and plenty of humor. Here's one of my favorite funny lines:
"My boyfriend had been f*cked over by Barbie and Ken. And I was more like the Bratz doll rebound."
Rome by Jay Crownover
Without giving away any spoilers, Rome had a turn of events at about the 80% mark that I did *not* see coming. It had me so surprised, and Cora's reaction was so emotional, that I actually got a little teary-eyed and choked up. Not what I expect from series that I listen to mainly just for fun.
When it comes to the "bad boys" of the Marked Men series, Nash is my favorite. Yes he's tattooed and pierced and can be a total badass, but he's also laid back, patient, kind and a total sweetheart. His story still had drama and angst and he was dealing with a lot, but it was never due to his bad decisions or a bad attitude. While his love interest, Saint, sometimes drove me crazy, I was always behind Nash completely and cheering this bad boy on.
Long Way Home
Knowing the history between Chevy and Violet and what they were going though, this quote spoke volumes and really hurt my heart.
"I thought loving people was supposed to be easy," he says quietly. "But it's the hardest thing I've ever done. I wish I knew how to love you right."
"I've told you how to love me. You aren't willing to love me how I need to be loved."

For the first time ever, I found it impossible to choose just one Best Book of the Month. Because I read two in January that were so amazing and so unforgettable, each in their own way, that I couldn't pick one over the other.
From Sand and Ash
From Sand and Ash was the first book I read this year. It also happened to be my first 5 star book of the year. I was completely captivated by the historical fiction novel and was totally invested in the story of Eva, a young Jewish woman, and Angelo, a Catholic priest. Set in Italy during WW II, From Sand and Ash shines a light on an aspect of WW II resistance that I hadn't known before: the involvement of the Catholic church in hiding and safeguarding Jews during the Nazi occupation. It was also a love story - one that endured hardship and separation with no sight of a happy ending on the horizon. Without a doubt, this will be one of my favorites of the year.
All the Ugly and Wonderful Things
Two 5 star reads in one month is unheard of for me, but it happened. All the Ugly and Wonderful Things is a unique story and one that I can admit probably isn't for everyone. Even so, I was astounded by the story of Wavy and Kellen. It made me sad, it made me uncomfortable, it made me think. And it was unforgettable. It's been a couple weeks since I read it and I still haven't managed to write a review, even though I can't stop thinking about it. It somehow managed to be sad and disturbing and uplifting all at once and is another than will surely be a favorite of 2017.
______________________________________________________
Now it's your turn: What was the best book you read in January?