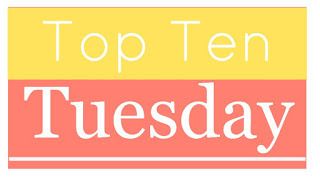 Top Ten Tuesday is an original feature/weekly meme
This week's Top Ten Tuesday topic is pretty open - books that I wish had more/less X. More kissing, less romance, more world building, etc. But I'm taking the prompt literally. Books that make me want more. More books (if it was a stand alone) or more sequels (if it was a series). Because sometimes you love a story and the characters so much you Just. Want. More.
The Lux series - Jennifer L. Armentrout
Yes, the series is complete. Yes, I was satisfied with the ending. And yes, I even read the first three books from Daemon's POV - but I still want/need more. I just don't get tired of reading about my favorite book boyfriend.😉
Simon vs. the Homo Sapiens Agenda - Becky Albertalli
I love Simon. I need more Simon. And Blue. More Simon + Blue.
Please and thank you.
Pushing the Limits series - Katie McGarry
I read the entire series. I read the short stories. I read the bonus content. Still want more.
I'll Meet You There - Heather Demetrios
I'm sure Josh and Sky are just fine. But if I could have a little more I would be so happy. A short story? An epilogue? C'mon, Heather, just a little something?
Eleanor & Park - Rainbow Rowell
I mean, seriously, that ending. If you've read it you know. I have every hope that Eleanor's situation (and life) improved dramatically. And I envision a future that included Park. But oh how I would love to have a little more of those two.
Maybe Someday - Colleen Hoover
The first book I ever read by CoHo still holds a special place in my heart. It ended well, no lingering questions, no loose ends, but I don't care. I adored Sydney + Ridge and would love to revisit them a few years down the road.
Some Kind of Perfect - Krista & Becca Ritchie
This was a 664 page epilogue of sheer perfection. And yet I'm still not ready to say goodbye to these unforgettable characters.
The Coldest Girl in Coldtown - Holly Black
This is one of the few stand alone novels that I am convinced should be a series. Because Gavriel. 'Nuff said.
Him/Us - Sarina Bowen & Elle Kennedy
I loved Him, I loved Us, and Wes and Jaime's story has been told. Don't care - still want more. I will never tire of those guys.
Thunder Road series - Katie McGarry
Just like with McGarry's Pushing the Limits series, I could keep reading about these characters book after book. I want Eli's story. I want Pigpen's story. I want a happy ending for Addison.
What book has totally left you wanting more?