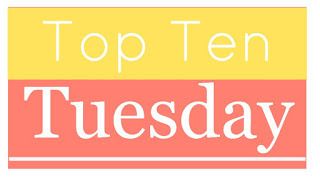 Top Ten Tuesday is an original feature/weekly meme
Ever feel like the odd man woman out in the book world? You love a book that everyone else is trashing? Or you hated a book that everyone else is raving about as the Next Big Thing? Yeah, me too. Here are my picks for the books that I liked (or disliked) more than everyone else.


The Infinite Moment of Us - Lauren Myracle
This one has a rather dismal 3.22 rating on GoodReads and I'm not sure why. I really enjoyed this YA contemporary.
99 Days - Katie Cotugno
This one proved to be incredibly polarizing and many readers slammed the book for a main character that cheated, but I loved it for presenting a flawed character who made mistakes and struggled to find her way.
I Want It That Way - Ann Aguirre
I feel like this one is more overlooked than disliked. But this was a new adult gem for me.
Changing Tides - Sarah Darlington
Some recent troll activity and attacking of the author (be people who probably have not even read the book) has driven this GoodReads rating down to 3.14, which is absurd.
The Summer I Found You - Jolene Perry
Another case of maybe not disliked by others (it has a GR rating of 3.71) but just overlooked. I loved this contemporary YA and it became an instant favorite.


I'll Give You the Sun - Jandy Nelson
This book is practically revered in YA contemporary. And I really, truly disliked it.
A Thousand Boy Kisses - Tillie Cole
I just recently reviewed this one so I won't go into specifics. But the schmaltz and cheese that had me rolling my eyes were apparently loved by most everyone else.
To All the Boys I've Loved Before - Jenny Han
A hugely popular book that just didn't do it for me. The main character came across as a naive 12 year old instead of a teenager and I couldn't take it.
Dreamology - Lucy Keating
A great premise that didn't deliver. It has mostly good reviews but I thought it was just silly and pointless.
Looking for Alaska - John Green
It took three books to finally realize that John Green's writing just isn't for me. I didn't like Alaska, I didn't care much about Miles/Pudge, and I was on pretentiousness overload.
What book do you seem to love
more than everyone else?