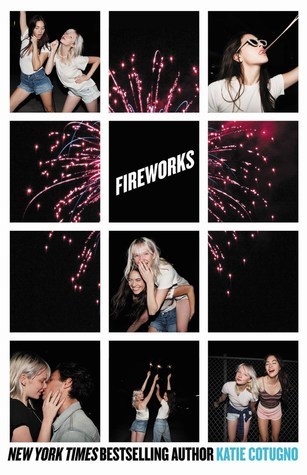 Fireworks by Katie Cotugno
Series:

No
Genres:

Young Adult, Contemporary
Release Date:

April 18, 2017
Format:

eARC
Source:

Edelweiss
From Katie Cotugno, bestselling author of 99 Days, comes Fireworks—about a girl who is competing with her best friend to become the new pop star of the moment—and all the drama and romance that comes with it—set in Orlando during the late-'90s boy-and-girl-band craze.
It was always meant to be Olivia. She was the talented one, the one who had been training to be a star her whole life. Her best friend, Dana, was the level-headed one, always on the sidelines, cheering her best friend along.
But everything changes when Dana tags along with Olivia to Orlando for the weekend, where superproducer Guy Monroe is holding auditions for a new singing group, and Dana is discovered too. Dana, who's never sung more than Olivia's backup. Dana, who wasn't even looking for fame. Next thing she knows, she and Olivia are training to be pop stars, and Dana is falling for Alex, the earnest, endlessly talented boy who's destined to be the next big thing.

It should be a dream come true, but as the days of grueling practice and constant competition take their toll, things between Olivia and Dana start to shift . . . and there's only room at the top for one girl. For Olivia, it's her chance at her dream. For Dana, it's a chance to escape a future that seems to be closing in on her. And for these lifelong best friends, it's the adventure of a lifetime—if they can make it through.

Set in evocative 1990s Orlando, New York Times bestselling author Katie Cotugno's Fireworks brings to life the complexity of friendship, the excitement of first love, and the feeling of being on the verge of greatness.
Having just graduated high school, Dana is faced with a bleak future: a lousy home life in a dead-end town. When she tags along with her best friend Olivia for an audition for a new girl group, no one is more shocked than Dana when she's chosen. Now thrust into a new situation with girls who are hungry for fame, Dana finds the bonds of friendship tested in ways it never was before.
I was excited for Fireworks because (1) I really enjoyed Cotugno's 99 Days and (2) the 90's setting screamed nostalgia. I was well beyond the girl/boy band craze during their heyday but I still remember the time well. While the 90's vibe wasn't particularly strong, Fireworks was still a (mostly) enjoyable read.
Dana was a likable character for the most part and I empathized with her feelings of inadequacy when she compare herself to the other girls who had years of training and practice behind them. She felt as though she was the weakest link and, well, she was. And yet she seemed almost belligerent when this was pointed out or when the coaches were hard on her. Dana seemed to vascillate between "I'm only here to make some bank and stay close to my BFF" and "I'll show them, I'm going to be the best!" So her motivation seemed murky and could change chapter to chapter. Dana also seemed to have a chip on her shoulder about coming from the wrong side of the tracks and made snap judgments about others, assuming they all had charmed lives and came from perfect homes.
Dana had always been able to count on Olivia but as the competition heated up their friendship felt the strain. Instead of keeping them together, the new adventure seemed to be tearing them apart. Dana turned to boy band member Alex, who lived in the same apartment complex and was coached by the same Svengali-like producer. Even though Alex fell into the TGTBT (Too Good To Be True) category, it was impossible not to fall for his good guy charm. He was sweet and funny and genuinely supportive of Dana.
It was hard to understand why Dana was chosen to be part of the group. With no training, no experience (and apparently no real desire to perform), how did she manage to be plucked from obscurity? More than one character made reference to her having "that certain something" but I never fully understood how she managed to pull it off and what made her so special. A despite the girl band theme, there definitely wasn't any evidence of girl power. These girls turned on one another in the blink of an eye and it was all about climbing to the top.
Fireworks was interesting and entertaining but overall a pretty middle of the road read for me. I appreciated the potential but ultimately felt a disconnect with the main character.
3/5 STARS

Note: This title was provided to me by the publisher in exchange for an honest review. This does not change my opinion of the book or the content of this review.