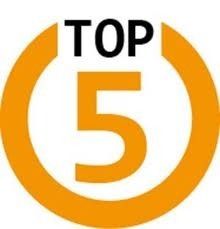 Click HERE for a complete list of participants and future topics.
I love this week's topic! Because there are several authors that I really want to read more from. I've read one or two books from them, loved what I read, and now want to gobble up their entire backlist. Here are my Top 5 picks.
*Note: The title of this post has me about to break out in hives. It feels all kinds of wrong to end with a preposition (horrors!) but I couldn't think of a better way to phrase it without sounding overly formal. Just know that if it's bugging you, it's bugging me, too.
One True Loves was one of my favorites of 2016. I was hooked from the first page and fell in love with Reid's story telling. Now I'm ready to read everything she's written. Thankfully, I already have several on my shelves just ready and waiting - Maybe in Another Life, After I Do, and Forever Interrupted.
I downloaded the audio book of Rule on a whim and then proceeded to listen to the entire Marked Men series. While I wouldn't necessarily call them favorites, they were truly good entertainment. Enough so that I definitely want to read more from Crownover. I hope to start the Saints of Denver series soon.
From Sand to Ash was my first read of 2017 and my first 5 star read of 2017. Harmon created something truly special with that novel - totally immersive and incredibly emotional. I'll be reading Making Faces from her very soon and I'm expecting all the feels.
Last summer I received an ARC for Swear on This Life by Carlino and loved it. Before the year was up I picked up Before We Were Strangers and my love for Renee Carlino was a done deal. Now I can't wait to inhale everything she's written. Luckily I have a couple on my shelf to dive into.
When I finally read The Deal last year I remember kicking myself for putting it off as long as I did. And now I'm still kicking myself for not continuing the Off Campus series, or anything else by Elle Kennedy (well, with the exception of her collabs with Sarina Bowen, Him and Us). I'm dying to read the rest of the Off Campus series and anything else Elle Kennedy writes.
What author do you want to read more from?