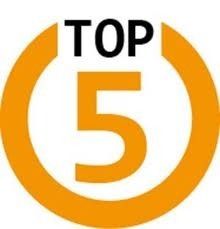 Click HERE for a complete list of participants and future topics.
Y'all know that I don't typically reach for fantasy - I'm all about contemporary - but there are a few exceptions. A couple fantasy series have totally hooked me. And there are a couple upcoming releases that have me pretty excited because of the synopsis or the author. So here are the Top 5 fantasy books I'm most excited for!
Sarah J. Maas
This is a given, right? It almost feels like cheating because it's probably on everybody's list. But, yes, A Court of Wings and Ruin is the one that has me with full-on grabby hands. I mean, with the way ACOMAF ended... I need to know what happens next.
And because Rhysand.
Evelyn Skye
The Crown's Game was one of my surprise favorites last year. The Russian setting pulled me right in and the ending left me desperate for the next book. I must know what becomes of Nikolai, Vika and Pasha!
Mindy McGinnis
A world threatened by an impending tidal wave that can only be held back by the ritualistic death of a young woman born to make that sacrifice. Throw in some magic and a pair of star-crossed lovers... I'm there!
A. Jae-Jones
As soon as I read the synopsis and saw mention of the Goblin King I was sold. And I'm sure it had nothing to do with my flashbacks of the movie Labyrinth with a fierce David Bowie as the Goblin King. Nothing at all.
Cora Carmack
I adore Cora's contemporary novels. Her Rusk University series is among my favorites. I can't wait to see what she does with fantasy.
What fantasy book are you anticipating most?