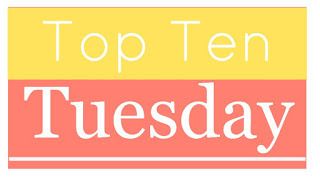 Top Ten Tuesday is an original feature/weekly meme
This week's Top Ten Tuesday theme is all about unique books.
Here are my picks for some of the most unique books I've read.
Bring on the special snowflakes!

1. Stolen | Lucy Christopher - This one is told in

second person

point of view

, via letters from the main character to her captor.
2. Every Day | David Levithan - The book features a main character

without a body and without gender

. Simply referred to as A, every day brings a different body and a different life.
3. I Am Princess X | Cherie Priest -

Part narrative, part graphic novel/comic

, I Am Princess X provided a unique storytelling technique.
4. Confess | Colleen Hoover - The

inclusion of original artwork

made for such a rich reading experience. Instead of simply having a character that was an artist, Hoover teamed with artist Danny O'Connor to actually create art based on the confessions used in the book.
5. Shatter Me | Tahereh Mafi - Juliette's voice and the way her story was shared was totally unique. Journal entries and her

inner

dialogue included strikeouts

that revealed her inner thoughts.
6. All the Ugly and Wonderful Things | Bryn Greenwood - The

multiple POV's

used in this book made for a story that was explored from every angle. Some POV's were recurring, some might have appeared only once, but every one of them added a valuable piece of the story.
7. Everything Everything | Nicola Yoon - Notes from the main character,

drawings, health logs, diary entries, IM's

and more were perfect additions to this already unique story.
8. Never Never | Colleen Hoover and Tarryn Fisher - Not only featuring two

characters who suddenly have no memory

of who they are but also told over the span of

three novellas

, Never Never was definitely different.
9. Saga | Brian K. Vaughn and Fiona Staples - This comic features stunning artwork but the truly unique aspect is that the story is

narrated by the main characters' newborn daughter

.
10. The Coldest Girl in Coldtown | Holly Black - After countless books featuring vampires who live in the shadows, abhor garlic and fear wooden stakes (or the kinder/gentler type who sparkle), Black's refreshing take on

vampires who are out in the open, live in quarantined areas and are featured on live TV

was totally unique.
What's the most unique book you've read?